San Bernardino Shooter Tashfeen Malik Reportedly Pledged Allegiance to ISIS Leader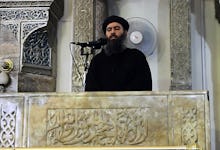 Multiple sources are now reporting that alleged San Bernardino shooting suspect Tashfeen Malik had pledged her commitment to ISIS and its self-proclaimed leader Abu Bakr al-Baghdadi. 
Three U.S. officials told CNN that Malik posted her declaration to Facebook under a different name, and that the message was posted to the social media site as the attack was underway. A Facebook executive later confirmed both claims to the Associated Press. 
There is no evidence that the group directed the pair to carry out the attack that killed at least 14 and wounded 21. Both Malik and her husband, alleged second shooter Syed Farook, were both killed in a shootout with the police. 
As the day goes on, more and more details are being released about the ties Malik and Farook had to Islamic extremism. Among them are the fact that Malik had previously lived in Saudi Arabia, and further details on the arms contents of Farook's garage. 
Farook is said to have had "soft communication" with people who were being investigated for terrorism by the FBI, reports CNN. 
The senior producer of CNN's the Situation Room, Vaughn Sterling, tweeted on Thursday that law enforcement officials said Farook may have been radicalized.  
Neither Malik nor Farook had been red-flagged by officials before Wednesday's massacre. 
"We also know [investigators] are looking at overseas communications," Evan Pérez, CNN's justice and national security correspondent of investigators, said on air Thursday. 
"Now, we don't know whether that indicates that anybody was ordering what happened yesterday to occur — again, there's no indication of that yet," Pérez added.
The assistant director of the Los Angeles FBI outpost, David Bowdich, said Farook had visited Malik's native Pakistan. He also visited Saudi Arabia in 2013 and 2014, though there is thus far no indication he was in communication with violent extremists during these trips. In fact, Farook traveled to Saudi Arabia the first time to fulfill Hajj, the Muslim pilgrimage to Mecca.
"We don't know yet what [soft communications] mean," an FBI official said, CNN reports. Farook's communication with suspected terrorists via social media and telephone were exiguous and intermittent and there was no contact in the months leading up to the attack. 
Jon Levine contributed additional reporting to this story.
Dec. 4, 2015. 2:30 p.m. This story has been updated.