Bill Murray and Phoenix Team Up to Record Cover of the Beach Boys' "Alone on Christmas"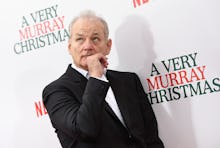 Bill Murray's highly anticipated Netflix special A Very Murray Christmas finally saw its release earlier today. To celebrate, wild man Murray joined forces with the indie band Phoenix to record and release a new Christmas jingle titled "Alone on Christmas Day." 
A cover of a late '70s Beach Boys' rarity, the track features an all-star line up of musician and actor Jason Schwartzman, David Letterman's former bandleader Paul Shaffer and New York Dolls' singer David Johansen (listed under his pseudonym Buster Poindexter). All proceeds from sales of the track — also released on Apple Music and as a vinyl 7" — will be going to benefit Unicef.
Phoenix's lead singer Thomas Mars is married to Sofia Coppola, who directed Murray in both Lost in Translation and A Very Murray Christmas. While premiering the track Thursday on Apple Music's Radio One, the band explained they are huge Beach Boys fans. They were surprised that when they reached out to talk about doing a cover, the Beach Boys had forgotten they had recorded this song. (To be fair, they do have an entire Christmas album and several Christmas singles.)
During that same interview, Mars' shared his own Bill Murray story, when he came to check out the band to see if they were right for the song. Murray came backstage with Dan Aykroyd, and a crew member told them "the Ghostbusters are here." He misheard it as "the dustbusters" and told them to come back later. Murray responded by busting into the room cursing out the band like a "mirrorball of emotions," as Mars says with a laugh. Listen to his full Bill Murray story below.