Woman Recreates Kylie Jenner's "Trendy" Wheelchair Shoot To Make It More "Authentic"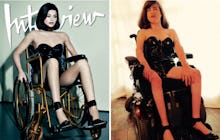 On Thursday evening, 24-year-old Erin Tatum decided that she wanted to recreate Kylie Jenner's controversial Interview cover. So she slipped on her best latex corset, styled her hair into a sleek bob and shot the camera her best smize.
Tatum didn't have to fake the other noticeable part of the cover: Unlike Jenner, Tatum actually uses a wheelchair. 
Tatum, who has cerebral palsy, wanted to make one very important point with the photo: Wheelchairs are not a glamorous accessory. 
"I tried my best to create a more authentic version of Kylie Jenner's Interview cover, given that I'm, you know, actually disabled and a real life wheelchair user," Tatum wrote under the post, which has gained tens of thousands of comments.
"I can barely get people to make eye contact with me, let alone land a cover shoot," she continued. "If being in a wheelchair is trendy now, I've apparently been a trendsetter since Kylie was born."
According to Tatum, her impulse to stage her own photo shoot was almost immediate. "I got the idea for the shoot when I first saw the cover," Tatum told Mic. "It's ridiculous that disability or wheelchair use is portrayed as artsy and provocative when able-bodied people do it, but actual disabled people are seen as sick or sad." 
Tatum joins the chorus of voices from disabled individuals who are crying foul over Interview's use of a wheelchair as a trendy prop, or even an accessory. When the Steven Klein-snapped images debuted on Tuesday, publications (including this one) took offense to the fact that Jenner, who is not disabled, was posing in a wheelchair.
"Her being normally abled in a chair is probably hurtful to some people who HAVE to use them, for whom it's not an artistic/fashion choice," wrote Nylon. 
That sentiment was quickly echoed on Twitter, where people condemned the magazine's attempt to make a wheelchair an "edgy" accessory.
Among the barrage of tweets, it was the photos that stood out. Ophelia Brown, who tweets under the handle @bandaidknees, posted a picture of herself in her wheelchair with the caption, "@KylieJenner wow being in a wheelchair is so fun and fashionable! #Ableism is the ultimate fashion statement!"
On Wednesday, the day after the photos' release, Brown followed the tweet with an open letter titled "Dear Kylie Jenner, My Wheelchair Isn't A Limitation — It's My Wings."
In the piece, which was published on MTV's website, Brown notes that while she primarily blames the magazine for the photo and not Jenner specifically, there are many reasons why Jenner's pose made her feel rotten: 
Seeing you sitting in a wheelchair, modeling, made me sad, angry — even jealous — that you could so easily get in and out of the chair whenever you liked. It made me think about all the times that I've been told "handicapped people can't be beautiful" or that I was "too sick to love." There you were, on the cover of a magazine being published to a country that absolutely adores you. Here I was, completely invisible.
This especially "astounded" Brown and Tatum given that actual disabled models like Jillian Mercado are rarely given a chance.
Given the bondage-style aesthetic of the photo shoot, Jenner's pose also sent a message that a wheelchair is a restrictive device. Brown said that she couldn't be more wrong.
"A wheelchair is, by definition, a mobility device," she wrote. "This means that it gives freedom and independence to the person who needs it, whereas your photo suggests a wheelchair represents limitations."
"For every model or actor who uses disability or mobility aids as a  cool prop, there are thousands of strong, confident people with disabilities whose narratives are routinely drowned out," Tatum added to Mic. "The idea that we as a society see disability as tragic or undesirable until it can be turned into a fashion/political statement through an able-bodied lens is frankly more than a little insulting." 
Since the release of the images, Interview has defended them, saying the images were simply "part of a tradition, placing Kylie in a variety of positions of power and control and exploring her image as an object of vast media scrutiny."
The magazine also insisted that the images were not meant to offend. "Our intention was to create a powerful set of pictures that get people thinking about image and creative expression, including the set with the wheelchair," a representative for the magazine said. 
Correction: Dec. 4, 2015
Dec. 7, 2015, 9:45 a.m.: This post has been updated to include quotes from Tatum.