Coldplay 'Head Full of Dreams:' Lyrics, Streaming and Download Options for New Album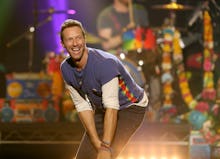 Coldplay released its latest album, A Head Full of Dreams, featuring collaborations with Beyoncé and a possible subtle appearance from lead singer Christ Martin's ex-wife, Gwyneth Paltrow, on Friday to a glowing review from the New York Times. The band is keeping the album off free streaming services for now — but there's always the Apple Music free trial loophole for those who want to hear the album before investing $9.99. 
"Blissful even at its most bittersweet, it's an album on which three songs make lyrical references to diamonds — as in, 'We are diamonds' — and every surface contentedly gleams," New York Times music critic Nate Chinen wrote in his review of A Head Full of Dreams.
Where to buy and stream A Head Full of Dreams: The album is available to purchase on iTunes and stream on Apple Music, but not on Spotify. "The artist or their representative have decided not to release the album on Spotify just yet," reads a message that appears along with a greyed A Head Full of Dreams track list on the streaming service. "We're working on it, and hope we can change their minds soon."
Coldplay follows in Adele's footsteps by keeping its latest album from the service — a move that proved to be lucrative for Adele after her latest album, 25, broke the world record for most albums sold in a week upon its November release. Taylor Swift started the trend when she kept 1989 off Spotify upon its 2014 release, which became the top-selling album of that year.
The album is available to stream on Apple Music, Apple's streaming service, which costs $9.99 per month with a free three-month trial for new users, or purchase on iTunes.
The album track list and collaborators: The 11-track album features collaborations with Beyoncé, Tove Lo and Noel Gallagher. Paltrow's voice is vaguely heard in the background of "Everglow," one of the album's few ballads, about "the spark that endures between the uncoupled," Chinen wrote. 
Coldplay collaborated with Tove Lo for a more joyful track about reminiscing on the good times after a romantic relationship ends. "But didn't we have fun? Don't say it was all a waste," Martin sings in the chorus. "So before it's over, before you run/ Ah, didn't we have fun?" Martin and Tove Lo harmonize in the second chorus. 
The album's full lyrics are available on Genius.
Coldplay's upcoming performances and tour: It was confirmed on Thursday that the British alternative band will headline the 2016 Superbowl Halftime Show in Santa Clara, California, on Feb. 7. The band will head out on a tour through Latin America and Europe next year to promote the new album. Find out tour dates and how to get tickets here.