Rick Ross Releases 'Black Market' Album: Featured Artists, Track List and Streaming Info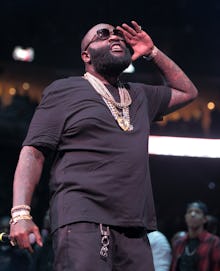 Rapper and Maybach Music Group founder Rick Ross dropped his eighth studio album, Black Market, at midnight Eastern Friday. The album, out from MMG and Def Jam Recordings, includes 17 tracks and collaborations with Mariah Carey, CeeLo Green, Nas, DJ Premier, John Legend, Chris Brown, Mary J. Blige, The Dream and Future.  
Ross posted the album's track list on Instagram on Nov. 20.
A full list of song lyrics is available here from Genius. If Twitter's any indication, fans are thrilled with Ross' latest LP.
The album is available for purchase on iTunes and can be streamed for free on Spotify. 
In advance of the album's drop date, Ross released a few teasers to get fans excited. Sept. 3 saw the mixtape Black Dollar, Oct. 6 saw a new single, "Sorry" featuring Chris Brown, and he dropped another mixtape, Renzel Remixes, on Nov. 27. Ross has been rapid-firing promos into the Twittersphere since the album went live at midnight. 
Fans have been eagerly awaiting the album since its announcement in October. As Music Times reported, Black Market will not shy away from calling out other rappers, Drake among them. Music Times cited a Breakfast Club spot with Ross in which he talks about the feud between Drake and MMG artist Meek Mill, and he possibly called out Drake in Black Market track "Color Money." The feud is, Ross said, "good for culture," Music Times reported.
Speaking to TMZ about Black Market's Dec. 4 release, Rick Ross said, "Biggest day of the year... bigger than your birthday... bigger than Hanukkah." The Jewish holiday starts on Sunday, and while it's unclear how Ross plans to measure the success of his album against the success of a whole eight days' worth of worship, it is a festive comparison and a bar set very high.