Feminist Germaine Greer Doubles Down on Anti-Trans Rhetoric in New Interview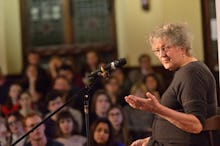 In what is billed as her first appearance since her controversial Newsnight interview, feminist author Germaine Greer spoke to the Update about anti-feminism, equality and, yes, transgender issues. 
Greer is famous for her many books, especially The Female Eunuch. She is also infamous in her view that a transgender woman is under a delusion "that he is female." 
"That's the interesting thing about transgender," Greer told the Update. "They're not fighting against a sex role. 
"They started off as Ken, and then they want to become Barbie." 
During the interview, which mostly steers clear of Greer's views on transgender people, one host asks: "Do you believe there are any overlaps between the injustices felt by the transgender community and the female community?" 
Greer let out a sigh and says she is "mightily tired" of discussing the transgender issue. 
She first spoke about those who identify as transgender, but specifically those transgender women who have entered into marriage while presenting male and then transition later in life. Greer was not a fan. 
"I'm sorry," Greer told the Update. "You can hold a knife to my throat. I don't believe you." 
However, rather than staying on the topic of transgender women, Greer talked about the cisgender women "dumped" by those who are married to men who transition. Greer said when a person transitions, if the person is married, their marriage to someone is annulled. She spoke sympathetically of the women who made their vows "in complete innocence." 
"What that says is, there was never a marriage," Greer told the Update. "The wife is dumped and the children are bastardized and that's the law. I can't get over that." Greer went on to say that she has received letters from women who have been "dumped" in this way and who are left without a way to provide for their children because of marriage annulment laws. 
Greer was referring to a problem with the U.K.'s Gender Recognition Act 2004, which has been addressed in part by the Marriage Act 2013. 
After her talk about marriage, Greer talked about intersexphobia, which she called "much more important." Greer said people should not be allowed to operate on a child with ambiguous genitalia. 
"To operate on them is completely unethical, because they then have to deal with the sequelae of that operation, which they never had a chance to choose," she said. "If you're talking transphobia, in my mind, that's it. That's it right there. Intsersexphobia." 
Greer also addressed her most recent controversy. After Cardiff University contracted Greer to speak, a petition to ban Greer circulated among the student body in October. The Update hosts asked Greer her opinion on students who "shut down" talks given by people with opinions "the students believe to be wrong." 
"It's especially ridiculous at a university," she said. "Because the soul of universities is debate.
"Somebody has to take the devil's side. They have to be the devil's advocate." 
The hosts also asked Greer her opinion on pop stars who wear provocative clothing — are they role models of sexual liberation or puppets of their capitalist record companies? 
Greer said she worried for young girls who "dress in a fashion to be noticed" by wearing "hot gear" that men can then interpret as sexual availability. 
Watch the full interview below: