More Adult Performers Have Accused James Deen of Abuse on Set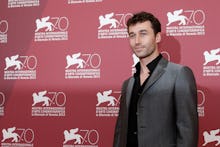 Porn actress Lily LaBeau has come forward with abuse allegations against James Deen, adding yet another account to the slew of allegations that have been made public in the past week. 
In an interview with Vocativ, LaBeau said that Deen violated her boundaries and abused her on set, and the resulting trauma still affects her to this day. According to LaBeau and actor/director Derrick Pierce, who was present during the two incidents, Deen repeatedly disregarded LaBeau's limits and her "no" list (her list of sex acts that she refuses to participate in) when they filmed together.
"The first thing he does is he walks over, I'm tied up, and he spits in my eye. It just went from zero to sixty, just degrading," LaBeau said in the interview. "To just start a scene by spitting in someone's eye, especially for a more vanilla company, he knows they can't use that."
In another incident, LaBeau said, Deen held a cattle prod, an electric shock device, near her, despite the fact that LaBeau had explicitly stated she did not want him to use it. Later, LaBeau told the website, he hit her in the head. 
"I just remember him taking his hand really far back and then just hitting me hard. Hard. Like, too hard," she said. "I heard and felt an almost crack in my ear, from my ear down to my chin. I couldn't close my mouth."
LaBeau's accounts were supported by Pierce and two other performers, who told Vocativ they'd prefer to remain anonymous.
"I know I'm not the only one, and I know that there's so many other stories like this," LaBeau said in another interview with BuzzFeed. She added that she believes the reason Deen's behavior had gone unchecked for so long was at least partially due to a lack of mainstream respect for the adult industry. 
"We take care of our own," she said, "but we could do so much more if we had more support from the mainstream."
Prior to LaBeau's revelation, this week saw allegations of either rape or sex-related abuse made from a number of other performers. These include Stoya, Kora Peters, Amber Rayne, Tori Lux, Ashley Fires, Joanna Angel and Nicki Blue. Another woman who identified only as T.M. told LAist that Deen assaulted her at a party in 2009. 
Deen's ex-partner Stoya initially tweeted her allegations on Nov. 28.
"James Deen held me down and fucked me while I said no, stop, used my safeword," Stoya wrote. "I just can't nod and smile when people bring him up anymore."
The only response from Deen so far has come in the form of a series of tweets and an Instagram photo posted this week denying the claims. "I want to assure my friends, fans and colleagues that these allegations are both false and defamatory," he wrote. 
h/t Vocativ