Four Louisiana Prison Officers Indicted in 2014 Jail Cell Death of Black Woman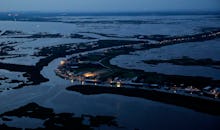 This summer, at least five black women died in law enforcement custody in the United States — Sandra Bland, Kindra Chapman, Joyce Curnell, Ralkina Jones and Raynette Turner. 
The pattern presented by their deaths sparked nationwide protests fueled by two trending hashtags — #SayHerName and #IfIDieInPoliceCustody — but was also preceded by a lesser-known victim: 19-year-old Nimali Henry, who died in a St. Bernard Parish, Louisiana, prison cell in April 2014.
On Thursday, Henry's family got something resembling justice. The Times-Picayune reports four correctional employees at the St. Bernard Parish Prison — Capt. Andre Dominick, Cpl. Timothy Williams, Deputy Debra Becnel and Deputy Lisa Vaccarella — were indicted by a federal grand jury in Henry's death, stemming from their failure to provide proper medication and treatment for the teen's rare blood disorder.
All four were found to have known about the disorder, but never let Henry see a doctor or take her medication. Henry was found facedown in an isolation cell early in the morning of April 1. The cause of death, according to the coroner's report, was likely a blood clot.
The four correctional employees were also found to have lied to the FBI during the agency's civil rights investigation into the incident, which launched in March after the father of Henry's 4-month-old daughter filed suit against the sheriff's office, which runs the prison.
Dominick and Becnel both falsely told agents they did not know about Henry's disorder. Williams lied about checking on Henry in the hours before her death, and Vaccarella allegedly watched Henry fall to the floor and stop moving, but told agents she'd seen the 19-year-old lie down, stand up and walk around without any problems, according to the Times-Picayune.
Henry was locked up because she could not afford the $25,000 bond needed to secure her release. She'd been arrested on March 21 for disturbing the peace, simple battery and unauthorized entry after a dispute with another woman occurred while Henry was trying to visit her daughter. The child was at the woman's house with the child's father, the Huffington Post reported.
The indictments brought against the four correctional employees are far from a guarantee, however. According to FiveThirtyEight, grand juries nearly always return indictments. In 2010, the year with the most recent data, U.S. attorneys presented 162,000 cases to grand juries across the country, and failed to secure indictments in only 11 of them.
Law enforcement officials seem to be the main exception, though reliable data is not available, and most data focuses on police officers and not corrections officers. The New York Times reports that between 2005 and 2011, 41 police officers were charged with murder or manslaughter stemming from on-duty killings. Over that same period, police departments reported 2,600 justifiable homicides to the FBI.
If convicted, Dominick, Williams, Becnel and Vaccarella all face possible sentences of life in prison for the civil rights charges, and an extra five years apiece for lying to federal investigators.
h/t Huffington Post