Nicki Minaj's Brother Reportedly Charged With Raping 12-Year-Old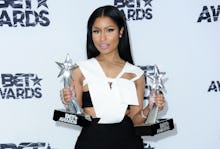 Richard Shotwell/AP
Nicki Minaj's 37-year-old brother, Jelani Maraj, was charged with rape and released on bail from the Nassau County jail in East Meadow, New York, on Thursday, according to Newsday. Per the outlet, Maraj's crime is rape in the first degree and first-degree counts of sexual conduct against a child. Speaking to Newsday, an unnamed source also said that the rape victim is 12 years old.
The district attorney's office said bail was set to $100,000, according to Newsday, though the attorney's office declined to provide further details regarding the specifics of the case, including to confirm or deny the age of the alleged rape victim. 
"The victim was someone he had access to," a source close told New York Daily News.
On Aug. 22, Maraj married Jacqueline Robinson, his longtime girlfriend. Minaj attended the ceremony, which was held at Coral House in Baldwin, New York. Minaj shared photos of the occasion to her Instagram account.
Maraj's attorney was not immediately named, and Minaj, who in June won an award for best female hip-hop artist at the 2015 BET Awards, had not responded to the allegations against her brother as of Friday morning.