The Obama Administration Is Canceling Millions of Dollars' Worth of Student Loans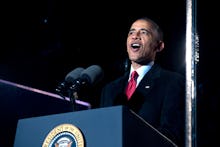 On Thursday, the Department of Education announced that it's offering about $28 million in student debt relief to over 1,000 former students of the defunct for-profit school operator Corinthian Colleges Inc. The sum sounds impressive but represents just a tiny fraction of the federal loan amounts burdening former students of an institution that collapsed after one of the most notorious scandals in American higher education. 
In many ways, the agreement highlights the limitations of the Obama administration's approach to reining in for-profit colleges as much as it is an example of the progress that's been made in holding them accountable.
The relief package is the first major bit of news on Corinthian to come from the department since the summer, when it announced that it was taking unprecedented measures to create a new student debt relief system for those who have been the victim of fraud and abuse. The relief works through a federal debt discharge code called "borrower defense to repayment," a measure that has rarely been used by borrowers in the past.
The fact that 1,312 former Corinthian students who filed claims will be released from debt for degrees that are widely perceived as worthless is a significant step. In May, the company filed for bankruptcy after years of state and federal investigations (and lawsuits) into a host of its exploitative practices, including deception in recruitment operations, false job placement numbers and predatory lending schemes.
That borrowers are being repaid represents one of the key ways in which the Obama administration is finally putting its money where its mouth is on reining in the damage that many for-profits have created — even if this progress has been a long time coming.
Is it enough? For many critics, the announcement is a reminder that the Education Department's response is too sluggish and narrow in scope to address the full scope of the crisis surrounding Corinthian, whose misdeeds have been documented for close to a decade.
The Huffington Post correspondent Shahien Nasiripour estimates that the debt discharge represents a mere "1% of the roughly 125,000 student debtors who are eligible for expedited debt cancellation."
The fact that the relief announcement represents just a drop in the bucket isn't sufficient to condemn the Education Department's efforts — Corinthian had hundreds of thousands of students attend schools it operated. The current process will take some time.
But another statistic is perhaps more insightful — and unflattering — for the Department of Education's debt relief efforts: The department has managed to help fewer students across the nation to apply for debt relief than the state of Massachusetts, according to the Institute for College Access and Success. 
Why does that matter? It means the federal government is failing to reach out to students who are eligible for debt relief, many of whom do not even know they have such a right or how to exercise it. So far, the Department of Education has received fewer than 7,000 applications, according to the Huffington Post.
That low number strikes at the heart of the matter when it comes to the inherent weaknesses of the federal government's strategy for student debt relief. It puts the burden on students to recoup money spent on worthless degrees, rather than the institution that wronged them in the first place. 
Critics want a more expansive process: The Debt Collective, the organization that helped put together a debt strike by former Corinthian students and played a role in adding public pressure to the federal government to devise a debt-relief process, says that the process is too little too late. 
"Secretary Arne Duncan appears to wants the good press associated with announcing that he is providing debt relief and to look like he is holding for-profits accountable, without doing anything to actually help borrowers in need or to turn off the spigot of federal funds to scam schools," reads a statement by the Debt Collective. "[The Department of Education] continues to create unnecessary, mean-spirited and convoluted barriers to loan relief while students and co-signers are hounded by debt collectors, threatened with garnishment, and unable to enroll in another school or move on with their lives."
Some higher education experts think that while the Department of Education has a tough job, it's outreach efforts have been underwhelming.
"The federal government has data on which students took on federal loans to attend which institutions — they could do a much better job of reaching out to borrowers, through loan servicers or otherwise, to make it crystal clear that students who attended Corinthian campuses have an opportunity to get meaningful relief," Mark Huelsman, a senior policy analyst at the think tank Demos, told Mic. "Given the relative success that Massachusetts has had, there might be room to share information with state officials as well."
When asked whether the Department of Education's loan contractors are informing former Corinthian students of their eligibility for forgiveness — a query first posed by the Huffington Post  that received no response — Education Department spokesman Denise Horn told Mic "The Office of Federal Student Aid has been contacting and will continue to contact potentially impacted student borrowers to provide clear information about their options, including loan discharge applications, in addition to providing enhanced information on the Department's website."
Horn did not reply to further questions about how exactly the government was going about it and what it might to to improve its outreach.
The takeaway: The agenda to relieve students who have been wronged of their debt is a slow process. A class-wide discharge, which would automatically unburden all former Corinthian students, would be far more efficient and seems justifiable, given the widespread evidence of fraud across its schools. This is the course preferred by the Debt Collective but the federal government has made clear it has no interest in such a sweeping relief process. 
In the meantime, it seems that thousands of former students are destined to continue paying for a mistake they never made.