Lil Bub's 'Science & Magic' Released: How to Buy and What We Know About the Album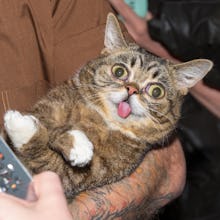 Lil Bub doesn't let being a cat hold her back from, well, anything. The feline Internet celeb's album Science & Magic is set to be released Friday. Lil Bub announced via her human reps in October that a new album was in the works. 
In a press release announcing the record, Lil Bub's artistic partner and apparent best friend Andrew W.K. declared that Science & Magic is not a "novelty item or a cheap and disillusioning gimmick."
"It may seem impossible that a cat could compose an entire album of carefully crafted instrumental music, but BUB is not simply 'a cat,'" W.K. said. "She came from the deep unknown, on an intergalactic mission to help the people and animals of Earth with her magic, talents and otherworldly wisdom."
Lil Bub wasn't always a celeb: She was "discovered as the runt of a healthy feral litter in a tool shed in rural Indiana," in 2011, according to the bio on her website, and adopted by her handler/cat-dad Mike Bridavsky. Lil Bub's distinctive looks won her Internet stardom, and now she tours the country selling merchandise, making appearances and meeting her fans.
The album features music composed for Lil Bub's many online videos. According to her website, 25% of the proceeds from the sale of Science & Magic will go toward Lil Bub's BIG Fund, a partnership with the American Society for the Prevention of Cruelty to Animals to provide grants to help dogs and cats with special needs. 
Science & Magic is available for pre-order on Lil Bub's official online store on regular vinyl, "cat eye-colored" vinyl, CD or as a digital download. The limited-edition picture disc vinyl is already "officially sold out," according to the website.