Babyface's New Album 'Return of the Tender Lover' Released: Reviews and How to Listen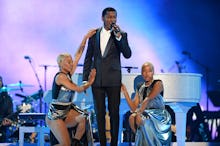 Veteran R&B singer Babyface is making a tender return with the release of his first original solo album in 10 years, Return of the Tender Lover, available to download and stream Friday. 
"This is old-school R&B with a fine glass finish, the musicianship and production audibly expensive and the man's voice so honeyed it presumably requires the attentions of worker bees," the Guardian's music reporter Dave Simpson wrote in his three-star review on Thursday. The nine-track album is all about love — literally, four of the songs have the word "love" in the title — and available to stream on Spotify and Apple Music and purchase on iTunes. 
"The collaborations on Return of the Tender Lover and the design of its production feel traditional, in the sense that they don't attempt to update Babyface's sound and instead lean comfortably on a long, established career," Pitchfork's Brad Nelson wrote in his 7.2 out of 10 review. 
Babyface has produced some of the most popular '90s R&B songs, including "I'll Make Love to You" by Boyz II Men, "You're Makin' Me High" by Toni Braxton and "We're Not Making Love No More" by Dru Hill. He became a force in the R&B genre with the release of his sophomore album Tender Lover in 1989.