'America's Next Top Model' Series Finale Preview, Start Time and How to Watch Last Episode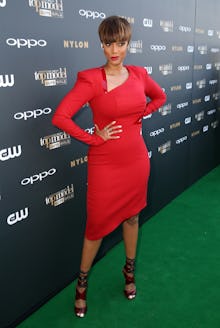 The last episode of the 22nd cycle of America's Next Top Model will air on the CW on Friday at 9 p.m. Eastern, bringing with it the "end of an era," per supermodel Tyra Banks, the show's host. In an obituary-style piece about the end of the much-loved television show, the New York Times counted a total of 289 episodes of America's Next Top Model during its 12-year run. The show will air via the network, which viewers can either watch on TV or stream online. 
America's Next Top Model last season: The 22nd cycle began on Aug. 5 and quickly cut the lineup down to seven male models and seven female models. According to a statement released before the season aired, Banks decided to forego the height restrictions that have applied to potential candidates in previous cycles, a decision which allowed "more hopefuls to apply than ever before, in what will prove to be one of the fiercest competitions in series history."
Two fashion savants, J. Alexander and Kelly Cutrone, join Tyra Banks on the panel of judges. 
What to expect from America's Next Top Model series finale: Four contestants, two male and two female, will compete to be crowned top model by Banks on Friday. The finalists are 23-year-old Mamé Adjei from Silver Spring, Maryland; 18-year-old Lacey Rogers from El Dorado, Arkansas; 25-year-old Nyle DiMarco from Washington, D.C.; and 26-year-old Mikey Heverly from Hollywood, Florida. The competitors will participate in one final fashion show that promises no shortage of aesthetic splendor. 
Fans can tune in to see which contestant takes home the top model title and "smize" through the tears as they bid adieu to the long-standing, beloved series. Here's a teaser of the season finale: