Larry Wilmore Sounds Off on the Epidemic of Gun Violence in the US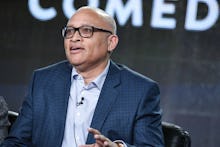 Larry Wilmore started off a Thursday segment on The Nightly Show talking about Wednesday's deadly mass shooting in San Bernardino, California, by saying what many people in the United States are likely feeling: These stories of slaughter are becoming all too common.
"Yet again, we have to talk about a mass shooting here in America," Wilmore said on the episode of his Comedy Central program. "Guys, this is beyond absurd. I mean, I didn't get into comedy to talk about violent death all the time."
Wednesday's attack marked the 355th mass shooting of the year, meaning that the U.S. has averaged more than one mass shooting a day so far in 2015. The violence spurred many politicians to call for changes aimed at reducing gun violence.
Wilmore described what he called the "big, thundering mountain of emotional exhaustion," the ride the public embarks on each time there's another tragic incident of gun violence. "The truth is guys, I'm tired of this ride," Wilmore said during Thursday's segment. 
"In the pit of our stomach, we just know it's not going to be long before we get on this ride again," Wilmore said. "And the scariest part about this whole thing is that it doesn't surprise us anymore. We're actually getting used to this. That's not good."
Watch the segment below or on the Comedy Central website.