Sinatra 100 — An All-Star Grammy Concert 2015: Preview, Performers, Time and How to Watch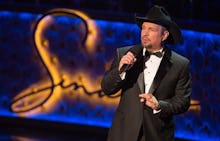 Stars and artists of all genres gathered at the Wynn Las Vegas' Encore Theatre Wednesday Dec. 2 for a tribute concert to celebrate what would have been nine-time Grammy winner Frank Sinatra's 100th birthday, which is actually on Dec. 12. Hosted by Family Guy creator Seth McFarlane, the two-hour concert called Sinatra 100 — An All-Star Grammy Concert will air on CBS on Sunday Dec. 6 from 9 p.m. to 11 p.m EST/PST, according to CBS. 
"Frank Sinatra is a voice for all generations," Grammy president and CEO Neil Portnow said in a statement. "His showmanship and artistry have remained unmatched since he began performing professionally in the 1930s to his last recording 21 years ago. Today, he continues to gain popularity for his classic sound and signature style. It's only fitting that we join the global celebration in honor of his 100th birthday."  
Sinatra's family had been thinking about a tribute concert since Sinatra's death in 1998, and last year's Beatle's tribute motivated Sinatra's daughter Tina Sinatra to pitch the idea to CBS, CBS reported. AEG Ehrlich Ventures, who produced that Beatle's show, worked with the Sinatra family to produce the show. 
Many artists paid tribute. Performances were many, including Alicia Keys, who sang "I've Got a Crush on You," Celine Dion and Tony Bennett performed "All the Way," Carrie Underwood sang "Someone to Watch Over Me" and Lady Gaga did a rendition of "New York, New York," Vulture reported. Also in attendance were LL Cool J, Garth Brooks, John Legend and Adam Levine. 
"My grandfather introduced me to Frank Sinatra," Keys said about Ol' Blue Eyes in a statement. "I love hearing his songs, the phrasing, the innocence — the subtle depth that knocks you out when you concentrate on the lyrics. And those arrangements! It brings me back to the lost art of 'the gentleman.'"