Dave Chappelle Has Created a "No-Phone Zone" for His Performances — Here's How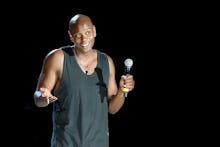 Dave Chappelle is done with smartphones — at least while he's performing. On Tuesday, a Hollywood Reporter exclusive detailed the stand-up comedian's deal with San Francisco tech startup Yondr, which makes phone sleeves that lock your device within a designated "no-phone zone," for his shows at Chicago's Thalia Hall, running through next Tuesday. 
How it works: The venue in question must map out its "phone-free zone" by setting up locking stations. Entering Thalia Hall, each attendee will be handed a Yondr sleeve at the door, in the size that fits their phone. The phone goes in the sleeve, the sleeve is fastened and the device is locked upon entry into the hall – calls, texts, tweets, photos, videos and Internet are off-limits until the patron exits the theater. Then the phone is again accessible and Chappelle's material preserved for another audience.
"You can think of it like the idea of smoking versus nonsmoking sections," said Yondr founder Graham Dugoni, according to Newsweek. "And the case does absolutely nothing to digitally block people's phones. So if you're waiting for a call from the babysitter, for instance, you'll still feel your phone vibrate in your pocket, and then you can step out into the phone-use area and unlock it."
The purpose of Yondr, according to its website, is "to show people how powerful a moment can be when we aren't focused on documenting or broadcasting it." Digital Trends reported, "The company has the capacity to accommodate up to 20,000-person events, which is above the size of many professional basketball stadiums." 
Comedians vs. smartphones: In a November 2014 interview published on Vulture, Chris Rock spoke about his wariness of performing in front of a room full of smartphones. "If you think you don't have room to make mistakes," Rock said, "it's going to lead to safer, gooier standup. You can't think the thoughts you want to think if you think you're being watched." 
Smart phones torpedoed Hannibal Buress' October 2014 performance, in which he called Bill Cosby a rapist. When a video of the comedian's comments went viral, Buress began receiving death threats, according to the Hollywood Reporter, and Buress has since used the sleeves during one of his performances. 
Dugoni understands the comedians' dilemma. "Yondr creates an environment where comedians can say what they want without fear of leaks," he said to Laughspin in May. "Spaces where people are temporarily free from constant emails and texts, where they can be genuinely uninhibited without fear of becoming a viral video and enjoy authentic social interaction. Live performances thrive when these elements are present and suffer when they aren't."