Hanukkah 2015: The 7 Best Hanukkah Songs and Parodies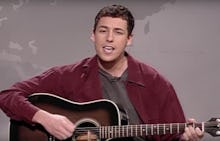 It's no secret that there's a scarcity of Hanukkah songs out there compared to the abundance of Christmas songs that infiltrate the radio, sometimes starting as early as November. Yet, like the small amount of oil burned for eight days in what became the miracle of Hanukkah, there are a few precious, hilarious parodies given airplay to celebrate the Jewish holiday.
Jewish a cappella group Six13 debuted a Hanukkah parody mashup of Drake's "Hotline Bling" and Silentó's "Watch Me (Whip/Nae Nae)" — and was featured in another, performing One Direction hits — this week, but the tradition of Hanukkah parodies is nothing new. Jewish comedian Adam Sandler made Hanukkah parodies a thing when he wrote and performed the "Hanukkah Song" on Saturday Night Live in 1994. 
Sandler has written several follow-up Hanukkah songs since then about famous people that are Jewish. The tune inspired a collection of Hanukkah songs and video parodies that expands each holiday season. 
Here are some of the most glorious Hanukkah song parodies of all time.
"The Hanukkah Song" by Adam Sandler:
"Paul Newman's half Jewish, Goldie Hawn's half too/ Put them together, what a fine lookin' Jew."
"The Hanukkah Song: Part 3" by Adam Sandler:
"If you still feel like the only kid in town without a Christmas tree/ I guess my first two songs didn't do it for ya, so here comes number three."
"Candlelight" by the Maccabeats:
"I flip my latkes in the air sometimes/ Saying ayo, spin the dreidel."
"Latke Recipe" by the Maccabeats:
"Four potatoes peeling great/ Shredding onions/ Tears streaming down your face."
"Chanukah (Shake It Off Parody)" by Six13
"Cause we're counting up to eight, eight, eight, eight, eight/We escaped an awful fate, fate, fate, fate, fate."
"Watch Me (Spin/Drey-Drey)" by Six13:
"Now watch me spin/ I spin my drey-drey/ Now watch me spin/ Shin, nun, gimmel, hay-hay."
"A One Direction Hanukkah" by Erez Cohen, Six13, A.K.A. Pella and the Y Studs:
"If you just like getting presents that can fill up your room/ This holiday's perfect/ This holiday's perfect for you."