How 'Billy on the Street' targets gay culture to create one of TV's greatest hits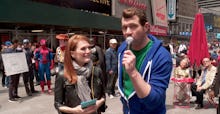 This week's episode of Billy on the Street features Julianne Moore reciting select dialogue from past roles — and it's spectacular.
Now in its fourth season, airing on TruTV after three seasons on Fuse, Billy on the Street incorporates specific pop culture references that are both particularly gay and universally mainstream. It is a niche, inventive comedy outlet that serves the gay male audience few television or online programs openly court.
The sketch is an example of the show's intentional inclusion of gay culture; Moore is an icon of the gay community, specifically of the gay cinephile subset. The moment when Moore states she wasn't nominated for an Oscar for The Kids Are All Right but was nominated for a Golden Globe, and host Billy Eichner snips back, "That doesn't count!"? That's the show at it's most niche — and gay.
Though several notable LGBT entertainment hosts come to mind, few of their programs are specifically for the gay community. Ellen DeGeneres is arguably the most notable figure in daytime, but her show targets a general audience that skews mostly female. Anderson Cooper attempted to court a similar audience as DeGeneres with his short-lived daytime talk show, but was unsuccessful. Andy Cohen caters his Bravo show, Watch What Happens Live, to a gay audience — but it's the network's reality programming, like the Real Housewives franchise, that invites gay men to the network in the first place. 
Comparatively, Billy on the Street and Eichner are speaking directly to a gay audience through a specific brand of comedy.
While there are a number of entertainment outlets for celebrities to flex their comedy muscles on, like The Tonight Show with Jimmy Fallon, the sketches cater to a larger audience. Eichner, whose brand of comedy is running around with a microphone and yelling at civilians or celebrities, is hitting an audience that is underserved by including popular elements.
The Amy Sedaris "Shondaland" sketch echoes the singularity of Billy on the Street's pop culture references while having a popular point of reference. The sketch pokes fun at specific elements from ABC's hugely popular Thursday night "TGIT" lineup; Shonda Rhimes' shows like Scandal, How To Get Away With Murder and Grey's Anatomy appeal to a wide audience, but it's the jokes like the "escape from wig mountain" obstacle Sedaris must get through that skew more toward the gay audience's devotion to pop culture. 
Billy on the Street's pointed comedy goes beyond entertainment. The sketch where Eichner and Jason Sudeikis "bro out" takes on the construction of masculinity and shows how involved the program is in gay culture without always involving a pop culture narrative. At the same time, talents like comedian Patton Oswalt and actress Olivia Wilde have appeared on the program, as have the generally beloved Tina Fey and Amy Poehler, all of whom appeal to a more general audience.
While the show is inclusive of all audiences, the Moore sketch illuminates its particularly gay brand of comedy. The gay community's fascination and adoration with actresses is intrinsic for most; they are who we discuss in person and online, who we fawn and fight over.
Billy on the Street is so specific in its satire of film, television and pop culture that it walks a fine line of being both accessible and oddly specific. The show services the gay community, refreshingly, with its particular mix of pop culture references and culture-specific, inventive comedy.