These Chennai, India, Floods Photos Show the Devastation That Killed Hundreds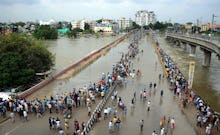 Chennai, India, is suffering an "unprecedented calamity" after weeks of flooding, the Indian Express reported. Torrential rains and inclement weather have caused at least 269 deaths in the city, located in eastern India and bordering the Bay of Bengal. Fifty-four people have died in Andhra Pradesh and two more in Puducherry, toward the south of the country.
Photos of the calamity show entire homes and motor vehicles submerged by floodwater, as rising tides engulf roadways and buildings. Forced from their places of residence, citizens in the region have taken extreme measures to find refuge from the flooding, including floating on furniture and riding in a backhoe, while others have been evacuated by boat, according to the Indian Express.
"Since the day before, Chennai has been cut off from all national and state highways," Union Home Minister Rajnath Singh said on Thursday, according to the Indian Express, adding that the volume of rainfall is "breaking a 100-year record."
Earlier this week, on Wednesday, the Eastern Naval Command sent the Indian Navy's INS Airavat, a behemoth warfare ship, to carry out relief and rescue missions in the flooded territory. 
Here is a series of photos depicting the destruction caused by flooding in Chennai: