'America's Next Top Model' Winners and Contestants: Where Are They Now?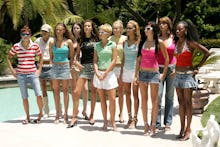 As the world prepares to say a farewell to Tyra Banks' era-defining reality TV modeling competition show America's Next Top Model, it's a good time to take a look back at some of the standout contestants from the show's 22 seasons cycles.
The series finale will air on the CW on Friday at 9 p.m. Eastern, crowning the last winner, but since the show premiered in 2003, dozens of women (and men) have appeared on ANTM to compete for their chance to win a cash prize and a modeling contract ... and reality TV fame, of course.
Here are some of the most memorable winners (and finalists) from the past 12 years of ANTM.
1. Adrianne Curry, Cycle 1
After taking the very first ANTM title, this cycle 1 winner kept her reality TV career going by appearing on season 4 of VH1's the Surreal Life. Curry married and then divorced fellow Surreal Life housemate Christopher Knight aka Peter Brady of The Brady Bunch. She currently lives in Los Angeles and keeps an active Instagram account.
2. Yoanna House, Cycle 2
House edged out cycle 2 runner-up Mercedes Scelba-Shorte to win the title. According to her website, she has modeled for O.P.I and been a "spokeswoman" for brands including Levi's, Sephora and Macy's. According to her Instagram bio, she's also learning to pilot planes.
3. Shandi Sullivan, Cycle 2
Former Walgreen's cashier turned Top Model contestant Shandi Sullivan was perhaps most memorable on her season for a hot tub make-out session with an Italian male model followed by a dramatic confessional phone call to her hometown boyfriend. According to her Facebook page, she currently lives in Brooklyn, New York.
4. Eva Pigford, Cycle 3
Since her time on ANTM, cycle 3 winner Eva Pigford has acted in both film and television, according to her IMDB page, including a year-long stint on The Young and The Restless. She's also a mom to daughter Marley Rae, born in 2014.
5. Yaya DaCosta, Cycle 3
Cycle 3 runner-up Yaya DaCosta may have lost out on the title to Pigford, but she's made a name for herself with a successful acting career. The former ANTM contestant appeared in The Kids Are Alright and Lee Daniels' The Butler and currently stars as Nurse April Sexton on NBC's medical drama Chicago Med.
6. Naima Mora, Cycle 4
Cycle 4 winner Naima Mora continued her modeling career after ANTM, according to her website.  She's also currently working on an album and released her first single in March.
7. Brittany Brower, Cycle 4
Brower almost made it all the way in cycle 4, winding up in the final four before she was eliminated. She returned for a special all-stars cycle of ANTM in 2011. According to her Instagram account, she continues to model.
8. Kim Stolz, Cycle 5
After making it to the top five in cycle 5, Stolz kept modeling. She was also a VJ for MTV News. In 2013, she married girlfriend Lexi Ritsch. The following year, Stolz published her first book, "Unfriending My Ex: Confessions of a Social Media Addict."
9. Danielle Evans, Cycle 6
Cycle 6 winner Danielle Evans beat out Joanie Dodds to take the title (despite the judge's frequent complaints that her Arkansas accent was too thick). After ANTM she continued to model and also maintains an Instagram account for her dog, a French bulldog named Kain.
10. CariDee English, Cycle 7
CariDee English went all the way and won cycle 7, launching her modeling career. She's also appeared in film and television, including appearances on Gossip Girl and One Tree Hill. English also appears in commercials for a medication to treat plaque psoriasis. 
11. Isis King, Cycle 11 
King was eliminated in the middle of cycle 11, but she made headlines during her run on the show as the first trans contestant on ANTM. Since her time on the show, she's modeled for American Apparel and has made appearances as a motivational speaker, according to her website. 
12. Chantelle Winnie, Cycle 21
Chantelle Winnie, who also goes by Winnie Harlow, appeared on the coed 21st cycle of ANTM. She made it into the top six before being eliminated. Winnie continues to model and also speaks about living with the skin condition vitiligo. Earlier this year, she appeared on the cover of Ebony.
13. Kieth Carlos, Cycle 21
Carlos was the first man to win America's Next Top Model. Before appearing on the show, Carlos played college football for Purdue University and had a brief career in the NFL with the Philadelphia Eagles and the New York Giants.