'Fear the Walking Dead' Season 2: Filming Location, Cast Info and Updates on Premiere Date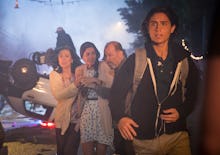 Companion to the Walking Dead, Fear the Walking Dead, has begun filming its 15-episode second season on the Baja California peninsula of Mexico, according to AMC's blog. While the first season, consisting of only six trial episodes and focusing on the beginning of the zombie apocalypse but on the west coast, aired between August and October, the second is set to air sometime in spring 2016, Variety reported. 
"We began by exploring the apocalypse through the filter of family drama, and now that the apocalypse has taken over, it's exploring the family drama through the filter of the apocalypse," executive producer Dave Erickson said in an AMC teaser. "That's the shift, and I think that'll be the interesting challenge and fun of season two." 
The new season will pick up where the last one ended: with the blended family — which includes Kim Dickens as Madison Clark, Cliff Curtis as Travis Manawa, Frank Dillane as Nick Clark, Lorenzo Janes Henrie as Chris Manawa and Alycia Debnam-Carey as Alicia Clark — potentially boarding Victor Strand's (Colman Domingo) yacht with an unknown destination, according to the blog.
This time, the show will take place on land and sea, Erickson told the Hollywood Reporter in October. For the record, walkers can't swim. But the uncertainty of finding a place that's still uncontaminated "will be the next blow that they suffer," he said, calling it "chaos."
While bringing on new characters, Erickson told the Hollywood Reporter that he wanted to focus on the dynamic of the "internal conflict" with the group of current characters. Some questions that might be answered are about Madison's past and how that affects her children, Nick and Alicia, and how Chris deals with having lost his mother.