Reporters Pried Into Alleged Shooters' Apartment and Everyone Is Very Confused About It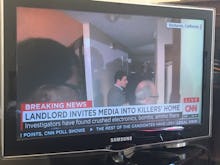 In something that viewed like a parody of sensationalist, dystopian media, MSNBC, CNN and other news outlets pried open the boarded doorway of a Redlands, California apartment belonging to San Bernardino shooter suspects Syed Farook and Tashfeen Malik. Then reporters, live on air, began trawling through their belongings and offering baseless speculations.
"The FBI did not let them in," a spokeswoman at the Federal Bureau of Investigation's Los Angeles office told Mic. When asked whether anyone from the agency was en route to the apartment, the spokeswoman said she was unsure.
Others on social media echoed the FBI's statement to Mic, which said they had nothing to do with the affair.
Bryan Lawson, a communications supervisor with the Redlands Police Department, told Mic that Redlands police had received "a lot of calls" about the media scrum at the apartment and had dispatched officers to the building. 
Lawson said that the RPD was waiting to hear from the FBI for further instructions about handling the scene. Asked whether it was legal for the landlord to allow reporters to enter the apartment, Lawson deferred questions to the L.A. FBI office.
"We finished our search," FBI spokeswoman Lourdes Arocho told Mic. "Any more details will be discussed at the press conference." Asked when the FBI completed their search, she declined to comment.
MSNBC reporter Kerry Sanders led cameras into the apartment, where Sanders proceeded to haphazardly rifle through items. While the cable network insisted the FBI had already removed all relevant evidence, Sanders uncovered a woman's drivers license — address included — and a personal photo album, at one point implying that he was showing audiences the first images of Malik, before quickly backtracking.
Sanders capped off his dubious reporting job when he came upon a prayer rug.
"A prayer rug," he declared. "I don't know if this has been moved, but this should be facing Mecca."
Frenetic speculation on social media ensued with viewers wondering how exactly the media gained entry. Andrew Katz of the Washington Post tweeted a transcript of an exchange between the landlord and CBS, in which the landlord claimed he didn't let them in, but instead simply opened the door, precipitating a rush of reporters.
However MSNBC reporter Irin Carmon tweeted that a reporter witnessed the landlord receiving $1,000 to enter the property.
The Twitterati was largely disapproving of the decision to enter the alleged shooters' apartment, saying it was tasteless and legally ambiguous, given the apartment is part of an ongoing investigation. 
This story will be updated as more information becomes available.