U2 In Paris: Start Time, Preview and How to Watch HBO Online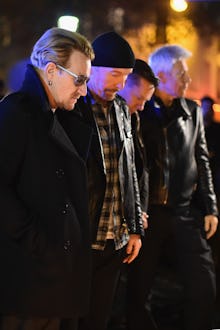 Jeff J Mitchell/Getty Images
Irish rock band U2's 2015 Innocence + Experience tour, which kicked off on May 14 and has taken the artists across North America and Europe, will close with back-to-back concerts at the AccorHotels Arena in Paris on Sunday and Monday. For all those fans who couldn't get tickets or make a quick trip to France, here are all the details on the tour finale, which will broadcast on HBO at 9 p.m. Eastern Monday. 
Still have questions? The band is happy to answer them: Tweet @U2 with the hashtag #U2forParis for answers on Monday, one hour before the show begins. 
U2's final show: The tour finale —which had been booked for Nov. 14 and 15 — was pushed to December in the wake of last month's ISIS attacks on the French capital. The band thought it vital that the show go on. "Terrorism relies on people being terrorized, and we were not going to be," U2 frontman Bono told the New York Times in a recent interview. "We felt the biggest and the only real contribution we can make at moment like that is to honor the people of Paris, who brought us the concept of liberté, égalité, fraternité."
U2 is known for putting on enormous shows. Sports Illustrated called their performance at the 2002 Super Bowl, which honored victims of the 9/11 terrorist attacks, "arguably the best...of all time." Rolling Stone called the band's latest album — Songs of Innocence, the foisted upon iPhone owners everywhere when it released in 2014 — a triumph of dynamic, focused renaissance: 11 tracks of straightforward rapture about the life-saving joys of music." 
For fans of the band, Monday's show in Paris is not one to be missed.
Where to watch: Tune into HBO at 9 p.m. Eastern for a full broadcast (it will also be available on HBO Go and HBO Now). Don't have HBO? You can stream audio for the entire concert via the band's website. 
What to expect: A spectacular concert, along the lines of the May 14 tour opener at Vancouver's Rogers Arena (which Rolling Stone called "triumphant") and the Sept. 24 show at Berlin's Mercedes Benz Arena, which GQ UK deemed "one of the best they'd played." According to Chicago's WBEZ 91.5, "U2's Innocence + Experience tour reminds you why you used to love this band." See the teaser below for evidence.
A behind-the-scenes documentary following the tour had been scheduled to air directly after the HBO special. According to fan site @U2, the documentary's premiere date has been postponed for now.