Amazon Prime Is Streaming Great Movies This Christmas — Here's A List of the Best of Them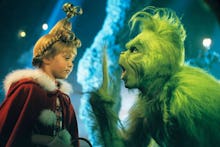 There's plenty of opportunity to binge on Christmas movies through old-fashioned cable TV this holiday season, but for all streaming addicts of the world, Amazon Prime is offering a solid collection of holiday movies for instant viewing. 
Classics like Miracle on 34th Street and comedies like Tyler Perry's A Madea Christmas make for an eclectic collection of Christmas movies that'll tickle anyone's merry fancy. There are nine pages of Christmas movies to choose from on Amazon Prime this season, so there's something for everyone. 
The best Christmas movies to stream on Amazon Prime:
How the Grinch Stole Christmas (2000)
Tyler Perry's A Madea Christmas (2013)
An American Christmas Carol (1979)
Miracle on 34th Street (1947)
Everybody's Fine (2009)
A Very Sunny Christmas (2009)