Why Cord-Cutters Will Love the New Apple TV — And Why They Might Not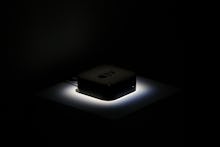 Much of the consumer hubbub surrounding Apple's September product launch focused on the new iPhone 6s, newly available in spiffy rose gold. But there was another player lurking onstage and in the showrooms that day: the Apple TV. 
"We believe the future of TV is apps," Apple CEO Tim Cook told the audience during the launch's Apple TV demo, before explaining that the latest generation of the device would come with its own app store. A carousel of developers, including online shopping company Gilt and indie game developer Hipster Whale, proceeded to preview their flashy new apps for the TV.
It was quite a statement. Cook was implying that the television industry, a mammoth and longstanding media business, was in store for a substantial change. But it also wasn't coming out of nowhere: The industry's future is in flux, and traditional methods for producing profits are on the decline. 
Apple, after spending nearly a decade tinkering with its TV product — with more than a few bumps along the way — looks to have settled on what it sees as an alternative. Indeed, as a new batch of Apple TV apps prepare to go to market this week, the company appears fully committed to developing both a new platform for its product ecosystem and a new way to experience television entirely.
The App Store helped transform the iPhone, but it also created a broad-scale change to the larger smartphone world. Apple's push toward TV apps is a bet that the same magic — and success — will translate to the living room.
As it stands, the TV's app store has a variety of offerings, including games, already established TV stations and streaming services like Netflix. Recently, however, it added a number of new categories, including education, health and fitness and lifestyle. 
These selections in particular carry strong overtures of the "future" to which Tim Cook was alluding. TasteMade is a mobile video network that allows users to find and watch curated travel- and food-related content from contributors around the world. 
"It's a democratization," Joe Perez, one of the three TasteMade co-founders, told Mic. "It means bringing in fresh faces." TasteMade's Apple TV app mimics channels like Food Network and TLC, only it doesn't have to go through a cable company to get there. By giving developers the ability to broadcast their content directly to consumers, Apple is allowing them to skirt traditional distribution paths. 
HomeAway, a vacation rental company that is also launching an app on Monday, is trying to bring a similarly novel approach to TV by allowing viewers to plan, book and prepare for their vacation all from their living room. 
But while small-time apps aren't Apple's only partners — networks like ABC and ESPN all have apps — it's still unclear how the two groups will fit together under one umbrella. TasteMade, after all, is competing with Food Network and TLC, and expecting them all to happily share the same space may be a bit optimistic.
What also remains unclear is whether both consumers and the companies themselves will warm to the idea of using Apple TV. They may avoid dealing with notoriously unpopular companies like Comcast and Time Warner Cable, but they will have to grapple with Apple. Other platforms have battled inconsistencies in the way rules are enforced in Apple's app stores, and its guidelines have come under fire for potential censorship. An Apple representative told Mic that Apple TV apps will go through the same submission and review process as iOS apps.
Meanwhile, similar platforms like Amazon Fire, Chromecast, Roku are all jockeying for pieces of the pie — not to mention Netflix, whose customers number in the millions.
Apple is looking ahead, however. As TechCrunch points out, one novel possibility for the platform involves user interaction with TV show broadcasts. Eddy Cue's idea of tracking real-time audience interest, for example, could conceivably deeply shift how media companies produce material, and it could differentiate Apple TV from its competitors.
Yet the hidden crux of all of this — and potentially the biggest unknown for Apple — is the prospect of user interaction. It's much easier to play games and book vacation rentals with other people using a big-screen TV instead of the tiny screen of a smartphone. The company seems to be banking on the success of these bells and whistles.