FBI Investigating "Act of Terrorism" in San Bernardino Shooting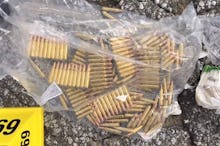 In the search for a motive in Wednesday's mass shooting in San Bernardino, California, the FBI is investigating the killings as an "act of terrorism," David Bowdich, assistant director of the FBI Los Angeles bureau, said in a press conference Friday. The shooting at the Inland Regional Center left 14 dead and at least 21 injured. 
Sheriff John McMahon of the San Bernardino County Sheriff's Department added there is "evidence to suggest" Wednesday's shooting was a terrorist event. In the wake of the shooting, two suspects, Syed Rizwan Farook, 28, and Tashfeen Malik, 27, were killed in a shootout with police. 
Authorities raided Farook and Malik's home in Redlands, California, on Thursday, where they found explosives and a hoard of ammunition including 12 pipe bombs, at least 3,000 rounds of ammunition and materials for additional explosive devices. Authorities also found an abundance of paraphernalia in an SUV the suspects fled the scene in and at the Inland Regional Center. 
Multiple sources reported on Friday that Farook had allegedly made a pledge to ISIS leader Abu Bakr al-Baghdadi. Other reports have circulated about Farook and Malik's ties to Islamic extremism, including that Malik had previously lived in Saudi Arabia and that Farook's garage was "set up as a bomb-making facility," according to documents obtained by NBC News. 
The shooting erupted Wednesday at the Inland Regional Center's conference building, which was being used by the San Bernardino County Health Department at the time. A list of the 14 victims, including health department employees and others, can be found here. 
Dec. 4, 2015, 3 p.m. Eastern: This story has been updated.