Bernie Sanders Just Took the Boldest Stance of Any Candidate on the Laquan McDonald Case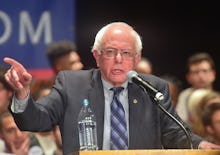 Sen. Bernie Sanders (I-Vt.) suggested on Friday that Chicago Mayor Rahm Emanuel may need to resign amid the raging controversy over how city officials handled the release of videotape showing the police killing of Laquan McDonald, a 17-year-old African-American shot 16 times by white police officer Jason Van Dyke.
Though Van Dyke killed McDonald in October 2014, the video of their encounter wasn't made public until last month, after a Cook County judge ordered its release. Emanuel's critics allege that he squashed release of the video to prevent a politically calamitous flare-up ahead of his campaign for a second term as mayor. He ultimately prevailed in his re-election bid after winning an April runoff election.
In a statement Friday, Sanders joined fellow Democratic presidential candidates Hillary Clinton and Martin O'Malley in urging a federal inquiry into the Chicago Police Department's practices. But Sanders went a step further by calling for "any official who helped suppress the videotape of Laquan McDonald's murder [to] be held accountable."
While Sanders didn't mention Emanuel by name, he added, "[A]ny elected official with knowledge that the tape was being suppressed or improperly withheld should resign. No one should be shielded by power or position."
Emanuel remains adamant that he won't resign, saying on Wednesday, "We have a process called the election. The voters spoke. I'll be held accountable for the decisions and actions that I make."
But the pressure on the mayor is unlikely to let up anytime soon. 
Emanuel sought to deflect further attacks on his administration with his stunning firing on Tuesday of police chief Garry McCarthy, citing "the undeniable fact that the public trust in the leadership of the department has been shaken and eroded." 
Yet McCarthy's departure has only redoubled the focus on Emanuel, and the mayor faced a new headache by Wednesday, when former State's Attorney Anita Alvarez denied that her office had blocked release of the McDonald video, as city officials had maintained in explaining the year-long delay.
Absent explosive new revelations, it's unlikely Clinton will join Sanders in implying Emanuel may need to go. The mayor has longstanding ties to the Clinton family, dating to his tenure as an aide in President Bill Clinton's White House. Last year, as Clinton promoted her State Department memoir Hard Choices in Chicago, Emanuel interviewed her for a question-and-answer session filled with friendly banter. 
It is notable, however, that in calling for a federal civil rights investigation of the Chicago Police Department, Clinton is starkly at odds with Emanuel, who has come out against such an inquiry.
Sanders, meanwhile, has butted heads with Emanuel before. This spring, the mayor faced a runoff challenge from progressive Cook County Commissioner Chuy García. Sanders endorsed García, who sought unsuccessfully to capitalize on progressive discontent with Emanuel over the closure of predominantly minority schools and Emanuel's close ties to Chicago's corporate elite.