DJ Premier New Album: What We Know About Guest Artists, Release Date and Latest News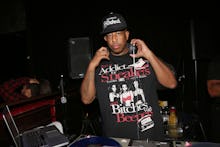 Producer DJ Premier is multitasking, hard. As the year winds down, Preemo has a collaboration album with MC Eiht "on the way", is producing NYGz's next LP, and getting ready to drop some new material of his own: Last Session @320, his first solo studio album. 
"Right now I'm about to drop the NYGz album," DJ Premier told Hip-Hop4Life in September. "They are a part of the Gang Starr Foundation. I did the whole album. It's a dope album. And then me and MC Eiht are doing an album collab together called Which Way Is West so that's about to drop as well."
In the Sept. 7 interview, Hip-Hop4Life asked DJ Premier if his solo album was in the works. "We've already started on it," he replied. Here's what we know about the debut album.
What to expect: A documentary about DJ Premier's former recording space, D&D Studios, will be included with Last Session @320. D&D closed its doors in January, "reportedly to make room for luxury apartments," according to HipHopDX. The album is "dedicated to the history of D&D studios," DJ Premier told Hip-Hop4Life. "We just filmed Jay-Z, we just filmed Nas," he told Hip-Hop4Life, naming some of the artists he worked with at D&D, whose location at 320 West 37th Street in New York City inspired the album's name. 
Featured artists: DJ Premier has enlisted a short-list of hip-hop's biggest names, who will make guest appearances on the album. Look out for features from Ed Sheeran, Nas, Snoop Dogg, Christina Aguilera, Heltah Skeltah and Dr. Dre, among others.
Release Date: No release date has been named yet, but given DJ Premier's packed schedule, it's unlikely to drop before the end of 2015. Last Sessions @320 might be a thing to look forward to in 2016; whenever it comes out, fans might have DJ Premier's aforementioned collaboration album with MC Eiht to tide them over during the wait. According to HipHopDX, it's coming soon.