Nevada Lawmaker's Christmas Card Features Her Fully Armed Family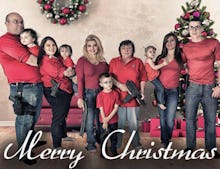 This holiday, Assemblywoman Michele Fiore of the Nevada State Legislature is wishing everyone health, happiness and firearms. On Tuesday, the lawmaker posted a Christmas card-style photo to her Facebook that shows Fiora and family members young and old posing with guns.  "It's up to Americans to protect America," Fiore captioned the post. "We're just your ordinary American family."
Here's the shot seen round the world:
While a number of the Facebook comments were positive, some social media users were appalled. 
"This is the most disgusting thing I have ever seen," commented one Facebook user. 
"Very nice. Merry Christmas!!!" another wrote. 
Posing with guns has become somewhat of a habit for Fiore, who also recently posed for a pro-gun pinup calendar which she titled the "2016 Walk the Talk Second Amendment Calendar." Photos of the lawmaker posing with guns appear across her social media accounts:
And in a recent interview with the New York Times, Fiore argued in favor of a bill that would legalize the possession of firearms on college campus, something she said could prevent rape. 
"If these young, hot little girls on campus have a firearm, I wonder how many men will want to assault them," Fiore told the New York Times, saying that with more guns on college campuses, "the sexual assaults that are occurring would go down once these sexual predators get a bullet in their head."
All this comes during a heightened week of gun violence in the United States. On Wednesday, a brutal attack erupted at a social services center in San Bernardino, California. That attack left 14 people dead and at least 21 more wounded. Across the country in Savannah, Georgia, on Wednesday, another shooting killed one victim and wounded three more — though that story was largely eclipsed by the bloodbath in San Bernardino. And during Thanksgiving break, an anti-abortion extremist named Robert L. Dear stormed a Planned Parenthood in Colorado Springs and opened fire, killing three people and wounding nine more.