Here's How to Style Your Beard for the Holidays, According to the Gay Beards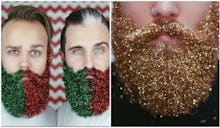 The holidays are a time for celebration and general merriment; naturally, from garlands to holiday sweaters, glitter runs in excess. Oh, and beards.
Brian DeLaurenti and Jonathan Dahl, the guys behind the Internet phenomenon the Gay Beards, are the O.G Internet beard decorators. Launched in 2014, their Instagram account, which has more than 142,000 followers, is chock full of creative ideas to take facial hair to the next level, like a face full of flowers, which is what first got Mic's attention in July, and more recently, a beard full of glitter.
Eager onlookers on the Internet were quick to label the glitter beard a "trend," while others rushed to scoff it away. But let's be honest: This isn't a basic fashion trend for the casually stylish. Your burly uncle probably didn't show up to Thanksgiving dinner with fall leaves on his face, did he? (Please tell us if he did.) 
Instead, this is for the bearded individuals who are ready to take holiday spirit up a notch, all while throwing beards' association with masculinity to the glitter-filled wind. If you're game, Mic has reached out to the Gay Beards to compile a handy guide to what to do (and not to do) with your beard for all the holiday celebrations to come. 
How to channel the holiday spirit for regular, everyday activities:
"Flowers, glitter, ornaments and even Christmas lights are all doable," the two told Mic via email. "Even if it's just a few seasonal flowers, or red, green, gold and silver glitter (if you don't mind making a bit of a mess and having glitter permanently in your carpet) and if your beard can handle the lights, it's definitely worth trying." 
Flowers may be the most straightforward option, which you can basically stick in there with a few bobby pins.
"Flowers are something you can try over and over again," they said. 
What to wear while snuggling around the fire:
Beards don't need to be showy. Instead, you can accessorize while cozying up at home beside the tree (or menorah). 
"The holidays are a time meant for family traditions, cozy fires, and even a festive beard if you can muster the strength," the Gay Beards said. "Perhaps a Poinsettia beard is in order, or even some light cocoa powder, tooth-picked marshmallows, and a crumble of crushed candy cane." 
What to wear to your swanky office holiday party:
According to the duo, an office holiday party is the perfect place for accessorizing. There's a pretty good chance you're going in hopes of impressing your office crush, right? You don't have to go full glitter; rather, just a few ornaments will do.  
"Throw a few ornaments in your beard," the two told Mic via email. "You can find small ones light enough to stay in your beard at a number of crafts stores. It's simple, easy and fun!" 
Better yet, we have great news: Launched last year to much fanfare, Beard Baubles are made especially with beards in mind in that they're plastic and quite small. However, nothing's really stopping you from going to a Michaels and picking up a few petite adornments, either. 
"Baubles are easily removable (for when you are ready to retire your beard decor), and can even be reused year after year!" they added. To show you all how it's done, the Gay Beards have gone ahead and done a video tutorial for those interested.
How to style yourself for a fussy family holiday dinner:
You already know you're going to end up with bits of mashed potatoes in there anyway, so you want to make sure the decoration doesn't get too messy. 
"As far as holiday dinners go, you just have to accept that fact that the only thing that will be in your beard is food," the Gay Beards said. "You can definitely try to rock something in the beard, but we say save yourself the trouble and maybe wait until after you eat... Anything else might just get in the way of your delicious meal!"
So let's rule out a glitter beard tonight in favor of something with easier clean-up. Throwing a bit of fake snow in your beard could be fun. It'll be easier to clean up than glitter (because everything is easier to clean up than glitter) and it isn't associated with one holiday in particular. It's non-denominational and it's cute as hell. 
How to get gussied up for a wild New Year's Eve party:
Now here is where we can really get crazy. This is the time to pull out all the stops and since when the clock strikes midnight you're probably going to be covered in glitter anyway, why not spread the love? It's time for a goddamn glitter beard, guys. You know you want to do it, and the Gay Beards know that too. 
"Glitter!" they told Mic. "All the way! We know it's messy, but it's the last day of the year! You'll basically be [a] walking disco ball at the party. Whatever mess you make, you can just blame on 2015." 
And so say we. 
Apparently the big trick to this one is prep, and according to one of their video tutorials, you want to style your beard by getting it a little wet or using hairspray on it before actually dumping the glitter on. 
This is also probably a good time to note: Please do not inhale glitter. Bad things will happen and we don't want bad things to happen to you, our furry friend.
Feeling inspired? This is just a small sample of what the Gay Beards have showed off so far. Other designs style ideas include balloons, sprinkles, pompoms and even Legos. The possibilities are quite literally endless. Sure, people may be really against this sort of accessorizing but as far as we can tell, no harm is being done at all. 
Go forth, bearded men (and women) and inspire others around you. Just be safe and, ultimately, look better than anyone else at that party.