St. Lucia Announces 2016 Album. Here's the Latest Info on the Sound and the New Song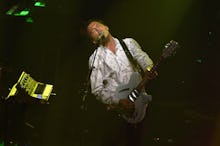 Jean-Philip Grobler, better known as music artist St. Lucia, will be dropping his sophomore album Matter on Jan. 29, 2016, before going on tour the day after, Music Times reported. With the announcement, the Brooklyn, New York-based band also released the music video for "Dancing on Glass," his first single in two years, according to Idolator. 
Hailing from South Africa, St. Lucia was formerly a jingle writer and child choir singer. In 2013, he dropped his indie pop debut album When the Night, in which he played "nearly every instrument himself," according to his website. He started work on his second album while on tour for the first.  
"If the last album sounded like the tropics, this album is the desert," Grobler said in a statement about the new album, which he collaborated with Passion Pit producer Chris Zane and Walk the Moon's Tim Pagnotta.  
But until then, he's released one of the 11 songs, "Physical," which is about "giving up control in a sexual situation and having an intimate experience that is purely carnal in nature," he said. 
The album can be preordered on iTunes. Here's the tracklist for Matter, via Idolator:
1. "Do You Remember?"
3. "Dancing on Glass"
4. "Physical"