Diddy's 'No Way Out 2' Is His Last Album — Here's What We Know About It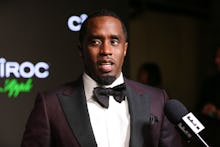 Hip-hop artist and media mogul Diddy (aka Sean Combs, aka Puff Daddy, aka P. Diddy) announced last month that his new album, No Way Out 2, will be his last. Diddy has been promoting his new mixtape MMM, which dropped as a surprise in November, as "the prequel to my next and final album #NoWayOut2," he wrote on Instagram.
There's no release date set yet for the new album, but rumors have been buzzing about the eighth and final studio album for Diddy since July. The title is a callback to No Way Out, Diddy's debut album, released in 1997 under the name Puff Daddy.
Diddy has been a player in the music industry since the early '90s. In addition to seven studio albums, he's also produced countless other hip-hop artists, not to mention his clothing line and acting career. Forbes reported his net worth to be $735 million in 2015.