Adele's 'Hello' Has a Spanglish Version You Need to Hear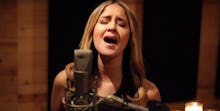 By now, the chorus to Adele's hit single "Hello" is probably as familiar to some people as their own name — the song is just shy of 600 million views on YouTube, and Adele's album 25 has been No. 1 on the Billboard charts for two weeks straight. 
But you've never heard it like this before. While Britney Spears gave us a dance tribute to the song, former American Idol contestant Karen Rodriguez gave the track a Spanglish re-imagining. 
The lyrics are extremely faithful to Adele's original. Where Adele pleas: 
Hello from the outside
Rodriguez's lovers plea is slightly altered: 
Hola desde el más allá
Which translates, roughly, to: 
Hello from way over there, 
Rodriguez is no stranger to redoing hit songs. She's also done a Spanglish version of Drake's "Hotline Bling."