11 Makeup Reasons to Get Very, Very Excited About 2016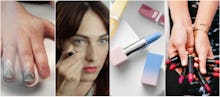 New Year's resolutions may be just a blip on your horizon, but we're here to preempt them: Instead of making all sorts of virtuous promises to yourself you probably can't keep, vow to treat yourself with an endless rainbow of exciting new makeup collections.
2016 will be a big year for beauty products, considering some of this year's most-hyped innovations aren't actually coming to stores (and our makeup bags) until next year. We'll be able to get our hands on spray-on nail polish, revamps of some old favorites, a bevy of celebrity collaborations and maybe even artificial freckles. 
Here's what coming down the pipeline.
We'll be able to literally spray on our nail polish.
No longer will you be subject to the smudges and long drying time of traditional nail polish. Starting in March 2016, Nails Inc.'s Paint Can will let you spray the aerosolized polish right on. There's a wait list already, but for something this cool, why wouldn't there be?
Our favorite pop divas are getting their own MAC collections.
Joining a long line of MAC icons is pop diva Mariah Carey, whose collection will debut in the spring. (If you can't wait, you're able to purchase the "All I Want" lipstick just in time for Christmas.) An icon of the younger generation is also getting honored by MAC: Ariana Grande is the latest Viva Glam spokesperson. Come 2016, the singer will have a rich, glittery purple lipstick and baby-pink gloss in her name, with all proceeds benefitting MAC AIDS Fund.
Sephora's beauty subscription box will no longer be limited by geography.
So far, Sephora's coveted $10 monthly subscription box, Play!, is available by invitation only, has a wait list to subscribe and is in "limited market release," aka only in a few cities. But the store has plans to expand the service nationwide in 2016, with a possible Canadian release to follow. Considering Play! was only launched in September, that's a promising start.
Urban Decay is teaming up with the lipstick queen herself: Gwen Stefani.
Mariah and Ariana aren't the only celebs collaborating with our favorite makeup makers. You can already get your hands on the eyeshadow palette from the Gwen Stefani x Urban Decay collab, but more items — including the kind of lipstick Gwen is known for — are set to roll out through spring 2016. Red lips ahoy!
We can emulate beauty YouTube all-star Jaclyn Hill — no videos required.
Everyone's favorite makeup-artist-turned-beauty-vlogger is getting her own makeup line in February 2016. Hill, who boasts millions of followers on YouTube, already broke records with her collaboration with makeup brand BECCA (it became Sephora's most-purchased item on the day of its release), so the bar has been set high for her new collection.
We'll be able to get our favorite Maybelline makeup in a brand new form.
Come January, Maybelline is bringing new additions to the super-popular Color Tattoo eyeshadow line in the form of a chubby, easy-apply concentrated eye crayon in new, high-impact shades. Given the "tattoo" name, you can expect these eyeshadow crayons to last and last and last.
Any of us will be able to get freckles, even if we weren't genetically gifted.
If you've ever wished for freckles, you could be in luck: The genius new invention Freck Yourself promises that you can stencil on natural-looking, semi-permanent faux freckles at home. The Kickstarter project isn't yet fully funded and has a few days left. But with the viral steam the project has gained, we have a good feeling we're going to see Freck Yourself come into existence by next year.
We'll be able to strobe like Beyonce in a rainbow of colors.
No longer will we be limited to basic strobing, thanks to MAC. The dewy look made popular by Beyonce and seen across Instagram and New York Fashion Week runways will become more versatile in 2016, when MAC releases tinted versions of its beloved Strobe Cream in red, silver, peach and gold shades. Be ready to glow like Bey.
Celebrity makeup artist Pat McGrath is getting her own makeup line.
The famed makeup artist will be releasing her own line, set to launch late next year. She kicked things off with a single teaser product back in October, the coveted limited-edition (and quickly sold-out) Gold 001 pigment. Not much information is currently available about the upcoming "full color line," but we're expecting bold pigments and colors worthy of Gold 001-level hype.
We'll be able to wear Pantone's dreamy Colors of the Year on our lips.
Some might wonder what the point of Pantone's annual Color of the Year really is. But at the very least, it gives us more makeup options. Come 2016, we'll be able to buy Sephora+Pantone Color of the Year lipstick in two winning shades: Rose Quartz, an icy pale pink, and Serenity, a purplish light blue (!).
We'll finally be able to get lips and brows like our idol, Selena.
It's the makeup the fans demanded. After a Change.org petition garnered more than 37,000 signatures, MAC agreed to design a line to honor the late "Dreaming of You" singer. Selena's sister, Suzette Quintanilla, even had a hand in creating the line.
Here's to a beautiful 2016!
­­