Boko Haram Suicide Bombings Kill at Least 27 People in Chad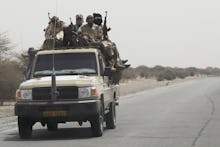 At least 27 people are dead after three suicide bombers detonated themselves at a local market on the Chad-controlled island of Koulfoua in Lake Chad, reports the BBC.
Police spokesmen told the news agency that the attack was carried out by three women who targeted refugees fleeing the Islamist terrorist group Boko Haram, which has killed an estimated 20,000 people and displaced up to 1 million others in western Africa.
Boko Haram operations have hit Nigeria, Chad, Niger and Cameroon; earlier this year, the organization pledged its allegiance to the Islamic State group, which controls vast swaths of territory in Iraq and Syria.
A report issued in November by the Institute for Economics and Peace concluded Boko Haram was the deadliest terrorist organization in the world during 2014 after killing a known 6,644 people. The group is notorious for suicide bombings, including those using young girls.
The military of Cameroon said it freed 900 hostages being held by the group earlier this week.
"There are many dynamics at play which makes it very difficult to assess when the insurgency will be truly be ended," Red24 security analyst Ryan Cummings told Quartz. "But an imminent end to the Boko Haram crisis seems a very unlikely development at this stage."
Catch up on the news that matters in 5 minutes or less by signing up for our daily email news briefing.