Woman at Donald Trump Rally Asks Him If Syrian Refugees Might Be Rapists Too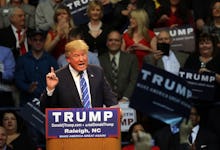 A Trump fan just trumped Trump with a question so bizarre, even he couldn't answer it.
At a Q&A session in Raleigh, North Carolina, on Friday, Trump — who recently flirted with the idea of a mandatory database of all Muslims in the country — was confronted with a female activist who wanted the candidate to explain whether Syrian refugees fleeing the Islamic State group pose a threat to the honor of American women.
"I would like to ask one question," said the woman, reports Raw Story. "Do you think the refugees that are coming here — trying to come here — that are trying to go to Germany and all over Europe, do you think they are going to become priests and become celibate? If not, what is going to happen to the women in the world in the countries they go into?"
Trump said that was a "pretty wild question" and asked her to clarify.
"Do you think those refugees, those young strong refugees that are trying to get into America, are going to remain celibate?" the woman continued. "Who are they going to hook up with?"
"OK, I don't want to get into that question," a visibly flummoxed Trump responded.
It's not at all surprising the issue of whether Syrian refugees are potential rapists came up during a Trump event. Earlier this year, the real-estate billionaire infamously called undocumented immigrants from Mexico "rapists." Trump has also referred to Syrian refugees as "one of the great Trojan horses," saying the migrant population possibly contains terrorists.
Still, while Trump didn't answer the question, his response was a far cry from 2008 Republican presidential nominee and Arizona Sen. John McCain, who rebuked a woman at one of his rallies who suggested then-candidate Barack Obama was "an Arab."