This GoldieBlox Commercial Recapped the Year in Feminism to Show Girls They're Worth It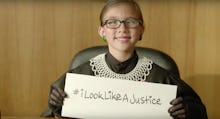 There are a lot of women to look up to this year: Ruth Bader Ginsburg, Misty Copeland, Hillary Clinton, Beyoncé and Amy Schumer, to name a few. Now, thanks to a music video from GoldieBlox, the toy company focused on getting girls to think beyond princesses, little girls have the opportunity to actually become these idols. 
In a video released earlier this week on YouTube, little girls dress up and dance to Fifth Harmony's "Work It" while dressing up as some of the biggest women in news in 2015. 
For girls who want to dominate the dance world, there's a young ballerina Misty Copeland. 
Any girl can be a commander-in-chief, according to this youth version of 2016 presidential hopeful and former Secretary of State Hillary Clinton. 
A young U.S. Supreme Court Justice Ruth Bader Ginsburg is pictured eating cake at a same-sex wedding. 
Little girls who want to play sports one day can see themselves as award-winning soccer player Abby Wambach. 
Another fan imitates Amy Schumer's "Girl You Don't Need Make Up" by applying aggressive amounts of it to herself. 
Isis Anchalee tore down sexist stereotypes of what an engineer can look like, reminding girls that you can have a job in science and tech no matter what. 
Viola Davis reminded young girls, especially young girls of color, that they too can lead a TV show — and win an Emmy. 
This year, the NFL's first female coach, Jen Welter, showed little girls that they can even lead the boys to victory. 
Finally, a young Nicki Minaj and Beyoncé make appearances to show girls that they, too, can be body-positive entrepreneurs and paragons of female friendship. 
The entire video is narrated by the Ellen DeGeneres Show regular Sophia Grace and features appearances from the actual Jen Welter and Abby Wambach.