Knife-Wielding Man Yelling About Syria Injures 4 in Attack on London Subway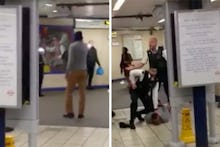 A machete-wielding man shouting about the civil war in Syria injured four people at a Leytonstone subway station in London on Saturday night, Sky News reports.
According to the Guardian, a woman who said she saw the attack claims the assailant yelled, "This is what happens when you f*** with mother Syria, all of your blood will be spilled."
Responding police officers used a Taser to take the man into custody. Law enforcement has not yet released his identity.
A graphic video posted to Twitter of the attack captured the man yelling at onlookers and stabbing a man, as well as a pool of blood on the ground near the station entrance.
The man was likely referring to Royal Air Force strikes on the Islamic State group in Syria, which began this week as part of a broader military campaign against ISIS following Nov. 13 terrorist attacks in Paris that killed at least 130 people.
In 2013, two men were found guilty of murdering Fusilier Lee Rigby, a British soldier, in a religiously motivated knife attack.