Meet the Hero Who Sacrificed His Life to Save a Woman From the San Bernardino Shooters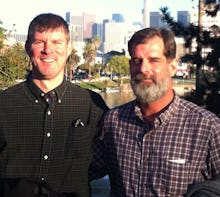 Shannon Johnson, one of the 14 people murdered in San Bernardino, California, on Wednesday died protecting one of his colleagues when two people opened fire on a Department of Public Health holiday party.
27-year-old Denise Peraza told ABC 7 the "amazing, selfless" Johnson died shielding her from gunfire.
"Wednesday morning at 10:55 a.m., we were seated next to each other at a table, joking," Peraza wrote in an email to the station. "... Would have never guessed that only five minutes later, we would be huddled next to each other under that same table, using a fallen chair as a shield from over 60 rounds of bullets being fired across the room."
"I will always remember his left arm wrapped around me, holding me as close as possible next to him behind that chair, and amidst all the chaos, I'll always remember him saying these three words, 'I got you,'" she continued. "I believe i am still here today because of this amazing man."
"He was one of the most beautiful men I've ever seen in my life, and I was afraid to talk to him," Amy Stokes, who attended high school with Johnson, told the Telegraph (Macon, Ga.). "He was a gentle-giant kind of a guy who was built like a truck."
Peraza, who was one of 21 wounded in the attack, told CNN that Johnson had attempted to respect alleged shooter and department employee Syed Farook's religion.
"Shannon would talk to him and just let him know that if anybody is disrespecting your religion — eff them," she said.
The Federal Bureau of Investigation is treating the San Bernardino attack as terrorism, following revelations Farook and his wife Tashfeen Malik were inspired by the Islamic State group, a self-proclaimed caliphate and terrorist organization that controls large stretches of Iraq and Syria.
Earlier in November, an ISIS cell in Paris carried out a gun and bomb massacre that killed at least 130 people there.
Catch up on the news that matters in 5 minutes or less by signing up for our daily email news briefing.