Obama to Address Nation on ISIS, Mass Shootings in Rare Oval Office Speech Tonight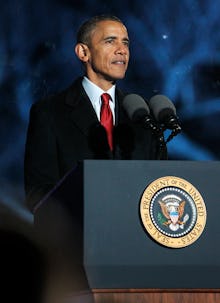 President Barack Obama is taking the rare step of addressing the nation from the Oval Office tonight in a speech that will be televised at 8:00 p.m. Eastern.
In the wake of two separate domestic terrorist attacks in the past month, one in Colorado Springs, Colorado and another in San Bernardino, California, the president hopes to reassure Americans that they remain safe.
According to CNN, the speech will particularly focus on the San Bernardino attack, which killed 14 people and was likely inspired by the Islamic State group's ideology. In his latest weekly address, the president suggested the attacks were tied to "hateful ideologies," though he said it was too early to draw conclusions.
Obama "will reiterate his firm conviction that ISIL will be destroyed and that the United States must draw upon our values – our unwavering commitment to justice, equality and freedom – to prevail over terrorist groups that use violence to advance a destructive ideology," according to a White House statement issued to the Hill.
The president is also virtually certain to address the United States' lax gun laws.
"Here in America, it's way too easy for dangerous people to get their hands on a gun," Obama said in his weekly address, adding that even people on the no-fly list can obtain military-style weaponry in the U.S.
While the primary purpose of the address tonight will be to reassure the American people of their safety this holiday season, the president also needs to defend his administration's record on terrorism.
The Los Angeles Times noted the last time Obama addressed the nation from the Oval Office was in 2010, when he announced the complete withdrawal of all U.S. combat troops from Iraq. Since 2010, ISIS has taken over vast swaths of the country.