Ted Cruz Promises to "Kill the Terrorists" in Post-San Bernardino Shooting Campaign Video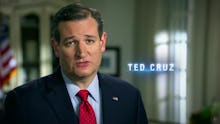 Republican presidential candidate and Texas Sen. Ted Cruz says he knows exactly how to deal with the Islamic State group — killing them all.
In one of two TV ads scheduled to air in Iowa just weeks after two people who may have been inspired by ISIS killed 14 in San Bernardino, California, Cruz promises "If I'm elected to serve as commander-in-chief, we won't cower in the face of evil. America will lead."
"We'll rebuild our military," Cruz says. "We'll kill the terrorists. And every Islamic extremist will know, if you wage jihad against us, you're signing your death warrant."
It's essentially the Republican Party line on ISIS boiled down to its simplest points.
Of the party's presidential candidates, it is mainly just Kentucky Sen. Rand Paul and current front-runner Donald Trump who have expressed skepticism of aggressive U.S. military action to deal with the threat posted by the self-declared caliphate — and Trump is not exactly a moderate on the issue. The real-estate billionaire recently called for the military to target terrorists' families, which Institute for Advanced Study researcher Michael Walzer told Mic would possibly be a war crime.
The conservative field largely agrees defeating ISIS will require significant military resources, though Cruz's position is remarkably blunt. Conservative news site Newsmax recently noted Cruz is escalating his hawkish rhetoric as he gains on Trump in the polls.
"We continue to see Cruz with growing strength among voters on the right everywhere we poll — he's almost even among 'very conservative' voters in New Hampshire, getting 27% to Trump's 29%," Public Policy Polling concluded last week.
An aggregation of polls kept by Real Clear Politics shows Cruz is tied for third place behind Trump and neurosurgeon Dr. Ben Carson with Florida Sen. Marco Rubio, with both candidates polling at 13.5% nationally.