Five Key Takeaways From Obama's Oval Office Speech on ISIS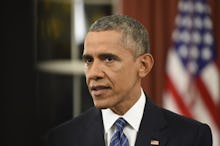 Confronting mounting public fears of terrorism in the aftermath of attacks in Paris and San Bernardino, California, President Barack Obama tried to assure a restive nation Sunday evening that his counterterrorism strategy would defeat the Islamic State terrorist group, also known as ISIS or ISIL.
Delivering only his third address from the Oval Office since assuming the presidency in 2009, Obama railed against ISIS militants as "thugs and killers, part of a cult of death" that is unrepresentative of mainstream Islam. 
"We will prevail by being strong and smart, resilient and relentless, and by drawing upon every aspect of American power," Obama said, adding that his administration would "hunt down terrorist plotters in any country where it is necessary."
Obama's speech came amid a political climate that has changed considerably since last month's Paris attacks, with renewed vigor and vitriol in the long-brewing debates over civil liberties, surveillance and military force. The address followed weeks of escalating criticism that Obama had not conveyed sufficient urgency in combating the ISIS threat.
Here are five key takeaways from his speech:
No major policy shifts: In the run-up to the speech, White House officials made clear that Obama would not use the address to announce a revamp of his anti-ISIS strategy. Instead, the speech was part of an effort to assuage doubts about his counterterrorism strategy, at a time when 64% of Americans disapprove of his handling of ISIS, according to a new CNN poll.
"The threat from terrorism is real but we will overcome it," Obama said Sunday. "We will destroy ISIL and any organization that tries to harm us."
Obama signaled an intensification of his existing strategy post-Paris and San Bernardino, saying that U.S. special operations forces had "stepped up" their operations in Iraq and Syria and vowing to redouble longstanding efforts to reach a diplomatic solution to Syria's civil war. Obama also ordered a review of America's visa program following the revelation that Malik easily secured what's known as a "fiancé visa" to enter the U.S. and marry Farook in 2014. (Obama incorrectly said Malik had entered the country on a "visa waiver," a misstep the White House later corrected.)
Recent setbacks aside, the administration's strategy has made notable progress, according to Heather Hurlburt, a policy director at the New America Foundation and a foreign policy aide in the Clinton White House.
"The president's policy has worked well in two ways: ISIS central in Iraq [and] Syria is on the defensive, and ISIS has not been able to mount attacks that pose any systems or existential threat to the U.S. or our allies," Hurlburt told Mic, although she noted "ISIS is gaining strength in North Africa," particularly in anarchic Libya. 
Ground war is not an option: Though the same CNN survey found 53% support for deploying ground troops to combat ISIS in Iraq and Syria, Obama remains unswayed by such findings, saying Sunday that a ground war would prove perilously counterproductive.
"We should not be drawn once more into a long and costly ground war in Iraq or Syria. That's what groups like [ISIS] want," he said.
Indeed, counterterrorism experts have argued for years that the war in Iraq, launched in 2003, served as a potent recruiting tool for groups like al-Qaida in Iraq, out of which ISIS emerged.
Obama pushed back strongly against Islamophobia: With Republican presidential candidates variously proposing a database of every Muslim in the U.S. (Donald Trump), allowing only Christian refugees from Iraq and Syria to enter the United States (Sen. Ted Cruz and Jeb Bush) and shutting down mosques (Trump), Obama spoke amid renewed scrutiny of Muslim-Americans and fears of new outbursts of Islamophobia.
But just as foreign policy adventurism would only aid ISIS' cause, so too would lashing out against Muslims en masse, Obama said.
Hurlburt agreed, telling Mic, "What ISIS wants from these terror attacks is to make Western societies stop accepting refugees, whom ISIS doesn't want to leave, mistreat our Muslim citizens, thus making ISIS' recruitment easier, and over-extend ourselves in the region."
In a clear shot at figures like Bush and Cruz, Obama rejected calls for any form of religious discrimination.
"It is our responsibility to reject proposals that Muslim Americans should somehow be treated differently," Obama said, pointedly pushing back against proposals to impose "religious tests" on those seeking refugee status.
He renewed his call for action on gun safety: Attorney General Loretta Lynch hinted Sunday onMeet the Press that Obama would devote some of his speech to calling for new gun restrictions, and while ISIS consumed the bulk of the speech, Obama did call for gun safety reform.
"Congress should act to make sure no one on a no-fly list is able to buy a gun. What could possibly be the argument for allowing a terrorist suspect to buy a semi-automatic weapon? This is a matter of national security," he said.
Obama also called for new steps to "make it harder for people to buy powerful assault weapons like the ones that were used in San Bernardino."
On Thursday, one day after the San Bernardino shooting, the Senate rejected amendments expanding criminal background checks and banning individuals on the no-fly list from buying guns.
This speech didn't change the political equation: Although Obama's address may move the needle on public opinion of his counterterrorism policies, it won't fundamentally alter the partisan debate over how to combat ISIS.
Appearing on Fox News after the speech, presidential hopeful Sen. Marco Rubio (R-Fla.) said, "Nothing we heard in that speech tonight will assuage people's fears." Rubio also called for ground forces to combat ISIS, arguing that airstrikes were insufficient to defeat the group.
"A moment where 40% of the country rejects a security message because it comes out of the mouth of a president they don't like is an extremely dangerous one for the future of democracy. It's not a challenge President Bush faced after 9/11," Hurlburt said.
You can watch Obama's address here: