GOP Candidates Hit Back After Obama's ISIS Oval Office Address — "Is That All There Is?"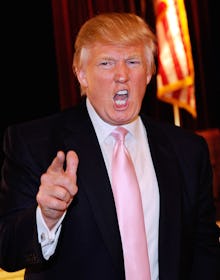 On Sunday night, President Barack Obama made a brief and rare address to the nation from the Oval Office. The Commander-in-Chief remarked on combatting ISIS, broadening the debate about gun control and imploring citizens to show tolerance toward Muslims. 
The candidates of the 2016 Republican primary, however, were unmoved by the president's words. At various points candidates took turns lighting into the president. Leading the way — as he currently is in the race — was The Donald.
Donald Trump
The GOP frontrunner live-tweeted the event, firing off a number of the Trumpian zingers we've come to expect from the billionaire and taking issue with everything from the content of the speech to the choice of decor.  
Marco Rubio
Florida Sen. Marco Rubio went on Fox News after the president's remarks, criticizing what he said was Obama's attachment to fighting ISIS using a failed method. "The same strategy that's brought us to this point is the strategy he's going to continue with," Rubio told interviewer Bret Baier. "I mean, he honestly believes that there is a coalition fighting against ISIS. This is absurd. There's no such coalition. A lot of countries have put their names onto a piece of paper, but the reality of it is we continue to conduct very limited air assaults. And you can't just defeat them from an air perspective."
Jeb Bush
On Facebook, the establishment's white knight took the president to task for "the self-imposed constraints [he] has placed on our intelligence community and military," seemingly referring to the Obama administration's choice to disallow harsh interrogation and surveillance techniques.
"President Obama has finally been forced to abandon the political fantasy he has perpetuated for years that the threat of terrorism was receding," the post read.
Ted Cruz
Champing at the bit, Texas Sen. Ted Cruz went on the offensive before president Obama uttered a single word. In a pre-speech statement, Cruz demanded that Obama take responsibility for his "failed policies" in addressing the ISIS threat and insisting that the president halt the entrance of Syrian refugees. "I hope that he will acknowledge and take responsibility for the failed policies of his administration and will take concrete steps to reverse the damage done," he wrote. "The American people know that the threat is very real." Not to be outdone, the senator also issued a statement after the speech reiterating and lamenting his previous points.  
The Rest of the Pack
Obama's four-step plan and the larger ISIS strategy will likely loom large in the Republicans' next debate, which goes down Dec. 15 in Nevada.