A New Photo Was Just Released of the San Bernardino Terrorists Entering the US in 2014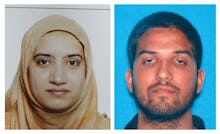 A new image of Syed Rizwan Farook and Tashfeen Malik has surfaced, reportedly showing the pair at Chicago's O'Hare airport as they entered the United States in July 2014. The husband and wife pair in San Bernardino, California, last week in an ISIS-inspired rampage that killed 14 and injured 21. The carnage was the worst mass killing in the United States since the Sandy Hook massacre in 2012. 
The picture, which appears to be security camera footage, was first obtained by ABC News. The image shows the unsmiling duo staring into the camera. Malik appears to be shrouded in a black al-amira veil, while Farook sports a beard and a taqiyah, a Muslim skullcap. 
According to federal authorities, Farook, a U.S. citizen, traveled to Saudi Arabia in 2014 and returned shortly after with Malik who was living there. The two were subsequently married in the United States, and at the time of the shootings were raising a 6-month-old daughter. Farook had been an employee of the San Bernardino county government and the massacre occurred shortly after he left a holiday party being held in the Inland Regional Center. 
A sweep of the couple's home found additional weapons, thousands of rounds of ammunition and pipe bombs indicating that the attack was fully planned and premeditated. In the midst of the massacre, Malik pledged her loyalty to ISIS on Facebook. In ISIS-affiliated radio station Albayan's English-language broadcast, the extremist group heaped praise upon the couple. "We pray to God to accept them as martyrs," they said, according to CNN.
It is unclear how or when Farook and Malik were radicalized. Relatives of the couple have expressed shock and said there had been nothing in either of their pasts to indicate that they would have ISIS leanings. "I have no idea why he would do something like this," Farook's brother-in-law Farhan Khan told reporters. "I have absolutely no idea. I am in shock myself." Both however were known to be observant Muslims. "He would go to work, come back, go to pray, come back," Farook's father told the New York Daily News.   
A neighbor who said he noticed suspicious activity from the couple told ABC News he had been afraid to speak out for fear of being accused of racial profiling. 
With violence based in Islamic extremism once again plaguing to the American homeland, the ISIS threat is likely to consume the last year of President Barack Obama's term. The issue has already become front and center of the race to succeed him, with candidates from both parties offering competing visions of how best to destroy the terrorist organization.