These Weed Purses Are the Invention Every Pot-Loving Woman Needs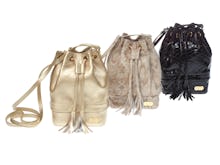 Carrying weed in your purse isn't always neat or convenient.
That's why Jeanine Moss, 60, and Ann Shuch, 55, the women behind the cheekily named company AnnaBís, have introduced what we'll call "the pot purse." The fashion-forward bag controls odor on the inside, allowing women to transport marijuana discreetly without risk of getting judged — or, worse, sniffed out.
The bags have been available online for only about three weeks, but they've already been noticed by fashion fans at Marie Claire and the Washington Post. They look fairly normal — in fact, they're pretty luxe: Each style is constructed from Italian leather, and they're not covered in weed-leaf insignia but, rather, subtle gold accents.
The fashion line includes a trendy bucket bag ($295), a "multicase" pouch ($175) and a thin vape case ($120). Each is equipped with "odor-loc" technology in the purse's lining, along with compartments with extra aroma control for grinders, pipes and so on. 
According to Merry Jane, the idea came to Moss and Shuch while they were out with friends seeing a comedy show. Before entering, one of the women suggested that they smoke; after a unanimous agreement, they all started sifting through their deep Pradas, Guccis and Chanels and thought, "There has to be a better way." 
"After that night, we thought why can't we just have something nice for our cannabis?" Moss told Merry Jane. "It was a bit of a selfish endeavor on day one, but once we started to seriously explore it as a business, we were shocked that there wasn't anything out there yet."
They would know — they've been smoking for years. The best part of the new bags might be the fact that they're not made by some recent college graduates, but experienced ganja goddesses. 
"We're bag collectors and we share so much as mothers with our daughters," Moss, 60, told Merry Jane. "Millennials dig them and it's so fun to have this generational alignment — especially with cannabis. And you ladies were all raised by us — not on Reefer Madness!"
Now the Boomers are seeing their longtime hobby turn into a legit fashion trend. Vapes are getting stylish, including blinged-out vapes ready for Instagraming and streamlined vaporizers from Pax that look more like iPod Minis that are sold for upwards of $280 at Opening Ceremony. Weed culture in general has traditionally skewed towards men (hello, Seth Rogen), but women are now establishing their own identities and businesses within the weed market. 
"Women have been overlooked in the industry because until recently it was illicit and male-dominated, popular culture focused on male archetypes and social stigma has been disproportionately directed at women," Moss and Shuch told Marie Claire. "What women want, need and demand in cannabis accessories is great design, quality and discreet functionality that lets us control where, when and with whom we share our personal preferences."