Meghan Trainor's Best New Artist Grammy Nomination Makes No Sense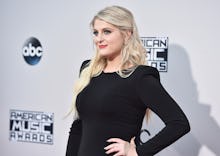 Meghan Trainor received a Grammy nomination for best new artist Monday morning — for no discernible reason whatsoever.
That's not a comment about Trainor's worthiness for the award, but confusion over exactly how she could be defined as "new." The singer-songwriter has been active on the pop charts since the release of her debut single "All About That Bass" in June 2014. Said song was even nominated for record of the year and song of the year at the Grammys held earlier this year.
Trainor's nomination this year feels like the Grammys saw Trainor at a party, said, "Hey, have we met before?" and Trainor just politely played along like they hadn't. The result is one of the weirdest best new artist nods in years.
The National Academy of Recording Arts and Sciences usually defines the best new artist category as being "for a new artist who releases, during the eligibility year, the first recording which establishes the public identity of that artist." By this criterion, it would seem, Trainor would fail to qualify. "All About That Bass" was a number-one smash the likes of which none of her other songs have matched.
Because of the Grammys' unconventional eligibility periods (October through September instead of January through December), Trainor's hit single was permitted for last year's race. Her album Title, a January release, was not. Conceivably, however, one could argue Title is the recording that set Trainor's "public identity," since it did hit number one on the Billboard 200. That seems remarkably limited thinking, however, considering the public has been embracing singles over albums for years.
No, "All About That Bass" was truly Trainor's definitive debut moment. It's probably best to chalk up this nomination to the general oddity of the best new artist category that sometimes is just late to recognize new artists. Remember when Bon Iver won the award in 2012 even though their first album dropped in 2008?
That said, other performers have been ruled ineligible for best new artist for far less prominent previous nods. Take Lady Gaga, who couldn't compete in the best new artist category in 2010 because of a prior best dance recording nomination in 2009. As the Guardian reported, the guidelines changed in 2010 with snubs like Gaga in mind.
"Under the revised rules, artists will now be eligible for the award unless they have previously released an album or already won a Grammy," the Guardian said in 2010. So under this very specific criteria, Trainor does indeed qualify. She lost both of her Grammy nominations last year, and her album didn't come out in the last Grammy eligibility period.
That's a lot of rule hoops to jump through to make this nomination make sense, though. If the Recording Academy of Arts and Sciences wants to sincerely seek out and nominate fresh new talent, they should reconsider some of these strange restrictions and loopholes. After all, when they get the best new artist winner right, they get it really right.
Get the news everyone's talking about delivered straight to your inbox every morning by signing up for MicCheck Daily.