'Selma' Director Ava DuVernay Gets Her Own "Shero" Barbie Doll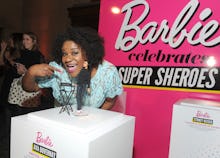 Barbie's world just got a little less monochromatic with Mattel's newest edition, the Ava DuVernay doll.
The award-winning Selma director's plastic likeness is the latest addition to the Shero collection first announced at Variety's Power of Women event last April. (Other Barbie Sheroes included 5-year-old fashionista Sydney "Mayhem" Keiser, actress and singer Kristin Chenoweth, country singer Trisha Yearwood, fashion business tycoon Eva Chen and actress/activist Emmy Rossum.) 
But the doll was like catnip to DuVernay's fans, who embarked on an aggressive social media campaign to transform the one-of-a-kind doll into a regular Barbie doll available to the wider masses.
And, on Monday, a number of #AvaBarbies went on sale, in time for Christmas. 
After her announcement, DuVernay said she would be donating all of the proceeds to Color of Change, an organization that aims to "to strengthen Black America's political voice," and WITNESS, which teaches citizens how to use video to document human rights violations.
A weighty issue. This is not the first time Mattel has given a plastic likeness to badass women of color. In September, the company introduced the limited edition Zendaya doll. 
The Barbie replicated the actress'  2015 Oscar look, which became the center of controversy when Fashion Police's Giuliana Rancic said that Zendaya's dredlocks made her look like "she smells like patchouli oil ... or weed." Zendaya issued a passionate and celebrated response to Rancic's racially-charged comments, elevating the actress to social commentator status. 
While Mattel's choice to create a Zendaya doll was no doubt a political decision spurred by the attention, critics maintain that no array of skin tones can trump the fact that Barbie continues to represent a sexist and unhealthy body image. 
"Scientists have estimated that if Barbie's figure were translated to a real-life woman, her waist would be smaller than that of the average anorexic, her body fat would be below the minimum that makes it possible for a woman to menstruate, and her neck — at six inches thinner than that of the average woman — would be incapable of supporting her head (which is, incidentally, larger than her waist)," the New York Times writes. "Research also suggests that playing with Barbies really does affect girls' feelings toward their own bodies and even their options in life."
For those concerned with the doll's influence on little girls, it will likely take more than an #AvaBarbie to placate them. As racial diversity becomes less of a concern, a #HealthyBMIBarbie is the people's next demand.
But for those kids who just want to recreate their own Hollywood on-set dramas — Will Skipper ever get to set on time? And just why does Ken spend so much time in his trailer? — DuVernay is a welcome addition to the Dream House.