Cara Delevingne "The Future Is Female" Shirt: Price, Where to Buy, Meaning and Controversy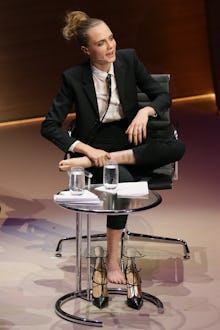 In a viral Instagram post Sunday, supermodel and actress Cara Delevingne announced she'd be selling sweatshirts with "The Future Is Female" logo, a design inspired by a 1975 photograph of singer and activist Alix Dobkin wearing a T-shirt with the same slogan and font. Though all the proceeds are going to a women's rights organization, Delevingne's initiative sparked some copyright controversy.
Price and where to buy: Delevingne is selling the sweatshirt on custom campaign merchandise site Represent for $39.99. All proceeds go to Girl Up, a United Nations movement for adolescent women. 
The controversy: Los Angeles-based graphic design and retail studio Otherwild has been selling a strikingly similar sweatshirt on its site for $50 for months and the sweatshirt had already gone viral — partially because Delevingne sported the sweatshirt, purchased from Otherwild, in November. In an Instagram post Monday, the company said Delevingne stole its design without giving credit.
Delevingne's sweatshirt is listed on Represent as a "a re-creation of the original shirt worn by Alix Dobkin in 1975 in a photograph by Liza Cowan." The slogan was originated in 1972 with the opening of feminist bookstore Labyris Books, according to Otherwild.
In an Instagram post on Monday, Otherwild said it owns copyright for the design and therefore Delevingne's design needs to be at least 20% different or sold as wholesale through Otherwild.  
The queer-feminist owned company criticized Delevingne for "ironically countering" the slogan's message and pointed out that she recently purchased the shirt from Otherwild.
"Her actions ironically counter the very message of the slogan 'The Future Is Female', and it's confounding that she would do this to a small queer feminist-owned business after purchasing the product from us just a few weeks ago," reads Otherwild's Instagram caption. 
Many Instagram users expressed outrage on Delevingne's Instagram account. "Stealing a design from independent female designers is antithetical to the spirit of the shirt," one user wrote. "So not feminist. Major jerk move. Creatively dishonest. Copyright infringement. Betrayal to the queer community. Folks, if you want this shirt, buy it from Otherwild."