'America's Next Top Model' Changed the TV Game for LGBTQ Contestants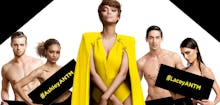 Tyra Banks smized her last smize Friday night as fans everywhere finally fell out of the running toward watching new episodes of America's Next Top Model. After 22 cycles of the beloved reality show — first on UPN, then on the CW — host Banks called it quits in rather unremarkable fashion.
The quiet acknowledgement of the show's past is disappointing, and not only because a grand finale hosted by Banks would have been thrilling. The tribute is insufficient praise for a show that, over the years, broke down several barriers for LGBTQ models and reality TV contestants. It often did so clumsily, but it got smarter and better at challenging social norms.
Over the years, there have been several bisexual and gay contestants to join the cast of models competing to win Banks' favor. The very first winner, Adrianne Curry, is openly bi. Cycle seven featured two lesbian models, Megan Morris and Michelle Babin — the latter of whom came out on camera.
In cycle 11, Banks and ANTM cast their first openly trans model, Isis King. The move was hailed as a major step forward for the series, and King became a fan-favorite, even returning for cycle 17's all-stars competition. A later cycle featured Virgg, a trans model, barely making the show's cast not because of her work, but because of complications from hormone use.
Would it be great if there were more trans and gender-nonconforming models throughout the series? Of course. But there's something quite noble about showing a contestant quit because of a complication from hormone use, something that trans people in real life face. Though clumsy, ANTM managed to represent these realities long before other series did. In the years since, Project Runway: All-Stars and Big Brother (among other series) have featured trans contestants.
America's Next Top Model was the kind of show where AzMarie, a lesbian model with a gorgeous, androgynous look, could thrive. It was where Miss J. Alexander, a runway coach with a walk to drop jaws, could become a fan-beloved judge — all while in giant heels. It was where Banks would cut a homophobic contestant down to size for daring to judge a gay contestant.
The particular moment from the 21st cycle, when Banks dismantles contestant Denzel over previous homophobic comments to Will, is exemplary of what ANTM did right. "I wanna take you back 50 years, and imagine you overheard Will say, 'I hope that Denzel guy doesn't win,'" she tells Denzel. "'Because if a black guy wins, my friends at home are gonna say I'm his bitch.'"
Is it a ham-fisted metaphor? Sure. Is it effective? Absolutely.
The final cycle of ANTM crowned Nyle DiMarco as the winner, a male model who is deaf and sexually fluid. It says a lot about the legacy of the show that this bit of progress hardly feels like one anymore. 
Series like ANTM don't get credit for helping usher in the social progress that took us from Prop 8 to nationwide same-sex marriage. However, they're an important part. Representation matters, and out there in the world is a trans person who feels a bit more comfortable in their skin because of Isis King, or came out to their family because of the many queer contestants on the show. That's a legacy worth remembering long after the show's last shot.