Justice Department Launches Civil Rights Investigation Into Police Brutality in Chicago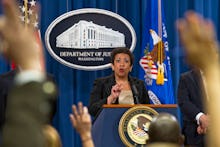 In the wake of the Chicago Police Department's release of a shocking video showing a police officer killing a black teenager, the Justice Department has announced that it is launching a federal probe into the the police department's practices.
"The Department of Justice has opened an investigation into whether the Chicago Police Department has engaged in a pattern or practice of violations of the Constitution or federal law," Attorney General Loretta Lynch said during a press conference Monday morning. "Specifically, we will examine a number of issues related to the Chicago Police Department's use of force, including its use of deadly force; racial, ethnic, and other disparities in its use of force; and its accountability mechanisms such as disciplinary actions." 
The probe: The investigation comes after requests from a number of state and local officials in the aftermath of a video showing 17-year-old African-American Laquan McDonald shot 16 times by a white police officer while walking away from the police. Attorneys for McDonald's family characterized the incident as an "execution."
"Our goal in this investigation — as in all of our pattern-or-practice investigations — is not to focus on individuals, but to improve systems," Lynch said. "We understand that the same systems that fail community members also fail conscientious officers by creating mistrust between law enforcement and the citizens they are sworn to serve and protect."
While the Department of Justice has already begun investigating the McDonald shooting, this probe is specifically designed to identify civil rights violations on a systemic level within the city's police force.
"If we discover unconstitutional patterns or practices, the Department of Justice will announce them publicly, seek a court-enforceable agreement with the Chicago Police Department and work with the city to implement appropriate reforms," Lynch said. 
The review is of a similar nature to the investigations led by the DOJ in response to highly publicized and protest-inducing police killings in Ferguson and Baltimore. Lynch described the federal government's inquiry as a tool for helping break the vicious cycle of cynicism that these killings produce in communities: "When suspicion and hostility is allowed to fester, it can erupt into unrest," she said.
While McDonald's death did not spark the kind of social tumult in Chicago that police killings in Ferguson and Baltimore did in 2014 and 2015, the ensuing investigation into the Chicago police could lead to large-scale reforms in one of the nation's largest police forces. The prolonged battle over the video of the shooting and the ensuing fallout has exposed just how easy it can be for law enforcement officials to shield themselves from charges of misconduct in cases where no video evidence exists.
Can the mayor survive? The video has also brought up questions of broader institutional corruption that extend far beyond Chicago's police department. The dashboard camera video was only released after a protracted battle between a journalist and the city, which deflected his Freedom of Information Act requests. A number of prominent city officials, all motivated by concerns of self-preservation, went to great lengths to suppress or postpone the video as long as possible.
Calls for Chicago Mayor Rahm Emanuel to resign have grown loud enough that the Democratic presidential candidates have been compelled to weigh in. In a statement on the matter, Bernie Sanders (I-Vt.) did not explicitly call for the resignation of Emanuel, who is a major player in national Democratic politics and once served as Obama's White House chief of staff, but he implied he should: "[A]ny elected official with knowledge that the tape was being suppressed or improperly withheld should resign. No one should be shielded by power or position." Clinton, by contrast, has expressed that she's "confident" in Emanuel as a mayor — her focus was on a federal probe.